This post is part of our Weekly Tips series.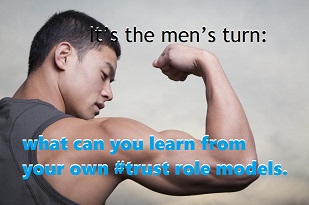 You may recall the retrospective from a few months ago on three extraordinary women (a new broadcaster, pop diva, and my mom) and what they can teach us about trust-building. Now it's the men's turn:
The fiddler. He's Carson Peters, and he's twelve years old, from Piney Flats, Tennessee. I discovered him on a U.S. TV talent show called Little Big Shots, hosted by comedian/actor/radio personality Steve Harvey. One noteworthy moment on the show: As Peters takes his seat, Harvey exclaims, "You're on national TV!" Peters replies, bright-eyed, "I know! And I'm kinda nervous!" From the beginning, he's clearly having fun in spite of his nerves. It seems to me people in the business world—especially recovering consultants like me—could all learn something from this young musician about the power of sharing our own (real) emotions and just being who we are.
The astronaut. Chris Hadfield opens his TED Talk with this question: "What's the scariest thing you've ever done?" He then recounts being outside on his first spacewalk—i.e. floating around in the vacuum of space—when his left eye went blind, immediately followed by his right eye. While most of us would freak out, Colonel Hadfield had been trained for a different response, which is exactly that point of his talk: that we can change our primal fears (you know, the ones that regularly interfere with trust-building). Two essential tips from Colonel Hadfield: (1) Discern the difference between perceived danger and actual danger (are those spiders really as deadly you think?) and (2) Practice facing your fears and dealing with things going wrong over and over again. As he says, "If you walk through 100 spider webs, you will have changed your fundamental behavior … your cave man reaction. And you can apply this to anything." Yes, anything.
[Tweet "Four #trust role models: A fiddler, astronaut, jockey, and sitcom dad: https://thegetrealproject.com/?p=4676 #getreal"]
The jockey. While I'm not much of a sports fan, I couldn't help but get at least a little caught up in American Pharoah's 2015 Triple Crown win. I just didn't expect to learn a valuable sales lesson from the jockey, Victor Espinoza. Consider his comments following the big victory: "I tell you, the first turn, I had the best feeling I ever have … I didn't even know what pole it is, half a mile, 5/8ths, I was just having fun." Espinoza understands that the best way to ensure victory is to be in the moment. Enjoy the moment. Never mind the outcome; it's in the future, and it will be what it will be. That's a great sales attitude if I've ever heard one.
The sitcom dad. Phil Dunphy is the self-described "cool dad" on Modern Family. He's also the subject of wife Clare's frustration and eye rolls as he tries hard to do right by her and often (cluelessly) gets it wrong. In one pivotal episode, Phil learns how to be a better spouse from an unexpected encounter—and he teaches us all how to be better services professionals in the process. One critical lesson for Phil: Don't help unless she asks you for your help. In the professional services world, I'd change this to "Don't help until you're sure they're really open to hearing what you have to say." Clients ask for help all the time—it's what you're paid for—and then you're frustrated and perplexed because you get pushback, or the brushoff, or agreement with no action. The issue usually isn't whether or not you're right; it's whether or not you're insisting on being right too soon.
Make It Real
This week, look for the men in your life who can teach you something about leading with trust. What do you most admire about them? How might you emulate those traits?
Learn More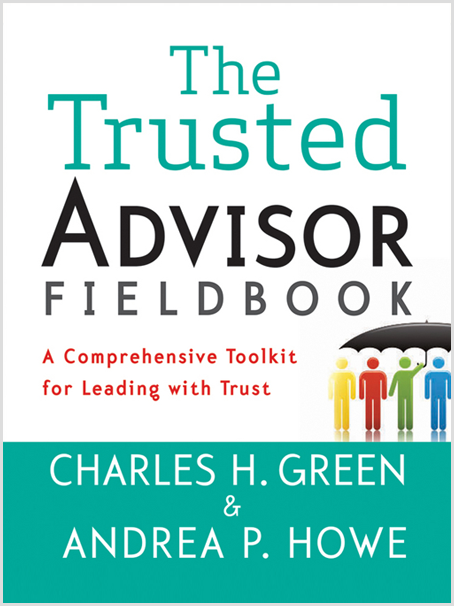 Find out why some women don't trust men in the workplace, according to our friends at Trusted Advisor Associates, or read Stewart Hirsch's story about handling an unexpected request from an international women's program in Chapter 11 of The Trusted Advisor Fieldbook.
The following two tabs change content below.
Andrea Howe
As the founder of The Get Real Project, I am the steward of our vision and our service offerings, as well as a workshop leader and keynote speaker. Above all else, I am an entrepreneur on a mission: to kick conventional business wisdom to the curb and transform how people work together as a result. I am also the co-author, with Charles H. Green, of The Trusted Advisor Fieldbook (Wiley, 2012).
Latest posts by Andrea Howe (see all)