Are you walking the talk of a trusted advisor? The honest answer for all of us is probably sometimes.
And yet you can't lead without trust.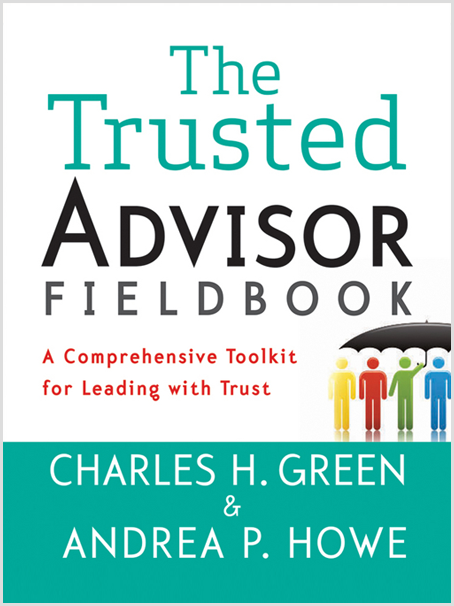 The Trusted Advisor Fieldbook: A Comprehensive Toolkit for Leading with Trust is a practical guide to being a trusted advisor for leaders in any industry.
A product of my partnership with Charles H. Green, this book is the culmination of the decades we've dedicated to working specifically on the subject of trust with leaders all over the world.
"When The Trusted Advisor published in 2000, I called it a brilliant and practical book. The Trusted Advisor Fieldbook is even more practical—and instructive—on how to develop trustworthiness, both in yourself and your organization."—Tom Peters, coauthor of In Search of Excellence
Get messy with it
We called it a "fieldbook" because the word denotes a practical, dog-eared manual that you can keep in your laptop bag as an instant helper.
We think the best way to use this book is to get messy with it. Highlight your favorite passages. Fill out the worksheets. Bend the corners of the pages you want to come back to. Wear it out!
Be known as someone who makes a difference
The Fieldbook aims to deliver everyday tools, approaches, exercises, resources, and actionable to-do lists for the wide range of situations that you will inevitably encounter. Each chapter offers specific ways to train your thinking and change your habits in order to earn the trust that is necessary to be influential, successful, and known as someone who makes a difference.
We believe that if you put the knowledge and practices in this fieldbook to work, you will become someone who earns trust quickly, consistently, and sustainably—in business and in life.
Check out Chapter 1 or our free eBook excerpts. No strings attached.