The Get Real Project is the result of more than a decade of exploring what it takes to have extraordinary client relationships.
We trace our roots to the year 2001 when founder Andrea Howe ended her career in IT consulting.
Andrea left a corporate paycheck and a well-established career path to form Andrea Howe & Associates, and later BossaNova Consulting Group. Her purpose? To address what she saw as a critical need in the consulting industry: making client relationship skills at least as important as technical expertise. BossaNova's tagline, "Consulting made extraordinary," reflected this original mission.
We teamed up with the best of the best
In 2006, Andrea joined forces with Charles H. Green, co-author of The Trusted Advisor and author of Trust-Based Selling. She became the first of a short list of people certified to deliver his signature workshops.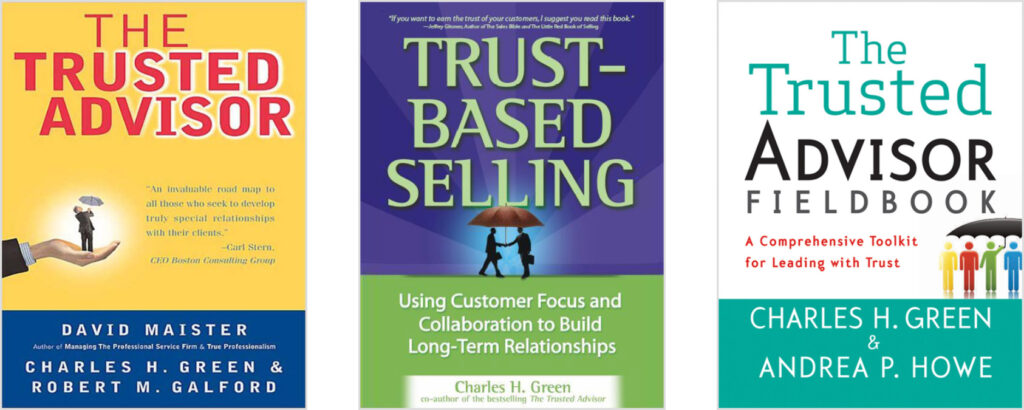 Six years later, Andrea and Charlie wrote The Trusted Advisor Fieldbook (Wiley & Sons, 2012), a hands-on successor to Charlie's books that answers pervasive everyday questions about trust and leadership. The Fieldbook tackles essential topics like how to develop business with trust, nurture trust-based relationships, build and run a trustworthy organization, and develop your trust skill set.
We believe in getting unconventional
In the course of leading dozens of programs on trust-based relationships to thousands of people in companies around the world, an important insight emerged:
Business professionals are essential role models for relationships done right.
Business performance (and more) is transformed when people are willing to demonstrate everyday behaviors that fly in the face of conventional business wisdom, like being vulnerable, taking personal risks, improvising, owning up to mistakes—in short, getting real and keeping it real.
In 2013 Andrea created The Get Real Project to bring visibility to this important conversation. So here we are.
We love what we do
Today, the Get Real team is focused on:
Providing a suite of products and services that help client-facing professionals master the soft stuff. This includes our signature programs on Being a Trusted Advisor and Trust-Based Selling that so many already know and love … and more.
Creating a community of like-minded people who can learn from each other and benefit from the value of shared experiences.
Inspiring a movement to redefine the conventional wisdom of client relationships that has shaped how we work and live for far too long.
Learn more about what we believe and whether or not you should hire us.