The Trusted Advisor Fieldbook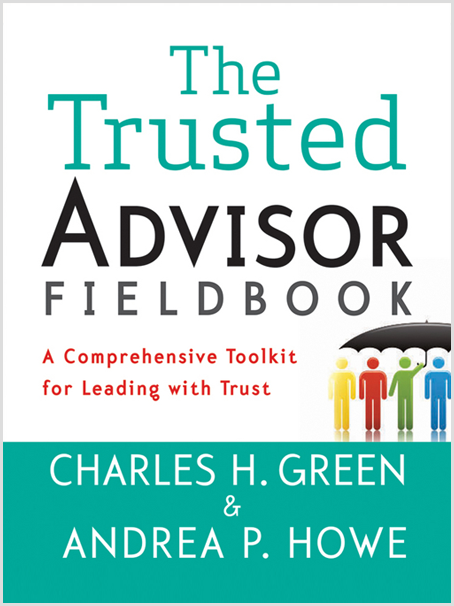 Real results are based on a foundation of trust.
Your success as a leader will always be based on the degree to which you are trusted by your stakeholders—whether you are a business developer, account manager, salesperson, project manager, program manager, unit leader, team leader, client relationship manager, C-level executive, consultant, or manager. Being trusted is a leadership quality that is neither cyclical nor faddish nor role-bound.
Read chapter one now
Order book on Amazon
Order book on Barnes & Noble
Order book on Porchlight
The Trusted Advisor Fieldbook
is a practical guide to being a trusted advisor for leaders in any industry. In this hands-on successor to the popular
The Trusted Advisor
, you'll find answers to pervasive questions about trust and leadership—how to develop business with trust, nurture trust-based relationships, build and run a trustworthy organization, and develop your trust skill set.
---
"
Charles and Andrea cut to the chase on trust—the one thing you can't lead without. They have provided us with a hands-on, state-of-the-art look at building trust, which is the essential component for becoming valued leaders to our teams and true business partners with our clients.
"
---
Put this fieldbook to work and you'll be someone who earns trust quickly, consistently, and sustainably—in business and in life.
Learn more from our eBook excerpts
The following two tabs change content below.
Andrea Howe
As the founder of The Get Real Project, I am the steward of our vision and our service offerings, as well as a workshop leader and keynote speaker. Above all else, I am an entrepreneur on a mission: to kick conventional business wisdom to the curb and transform how people work together as a result. I am also the co-author, with Charles H. Green, of The Trusted Advisor Fieldbook (Wiley, 2012).
Latest posts by Andrea Howe (see all)