[four_col pos="first"]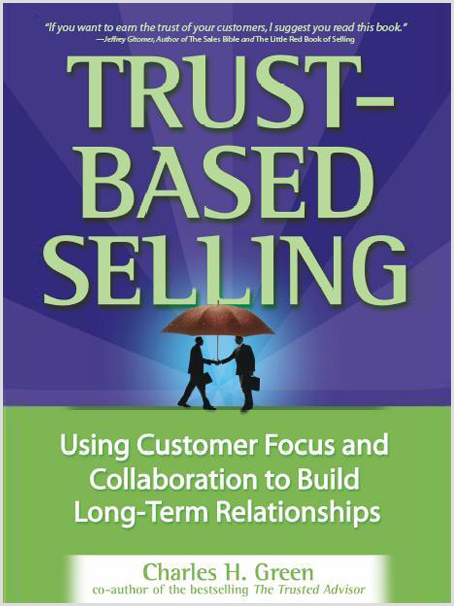 [/four_col][six_col pos="last"]
When you were young and someone asked you what you wanted to be when you grew up, did you say "salesperson?"
Probably not. And yet now in your job you're expected to develop new business, expand existing accounts, secure follow-on—whether your business card has "sales" or "business development" in the title or not.
The good news is that a whole new level of sales mastery is available to you.[/six_col]


Transform your results by transforming your relationship to selling
The Get Real Project's partnership with Trusted Advisor Associates brings the philosophies and practices of Trust-Based Selling to life.
"The program opened up our minds about trust-based relationships. This is greatly beneficial to anyone in sales"–Participant, 2011
We approach sales programs on three dimensions:
Focus on mindsets. We believe that how you think about selling is a key differentiator for anyone in a sales role—formally or otherwise. So we begin with a context that is other-focused and service-oriented.
Start with being trustworthy. Trust-based selling pointedly is not about closing, being assertive, or attempting to meet a client's every need. We teach you how to listen, understand wants and needs, and approach customers in an open, transparent way.
Confront the discomfort with "selling." A lot of people are afraid of selling—or at least uncomfortable with it—because it seems, well, smarmy. Our programs specifically address how to take the "sell" out of "selling."
Our paradigms and approaches can be applied to any sales model or methodology.
WHO SHOULD PARTICIPATE
This program is ideally suited for:
Salespeople and sales managers
Business developers
Account managers
Client relationship managers
Project managers and front-line consultants who are expected to help develop business
Involve your entire organization or strategically targeted groups.
Note: CPE credits are available for our Trust-Based Selling workshops.
HOW THE PROGRAM WORKS
We always tailor a program to match your real needs. Choose one of the following or combine several for maximum impact:
Customized, stand-alone workshops (usually one to three days, staggered or sequential)
Keynotes and mini-modules to add to off-sites, workshops, and other scheduled events
The Trust Quotient diagnostic
Your 30-day experiment
WHAT YOU'LL GET
Exact outcomes depend on the scale and duration of a program. Here's a sample list of program objectives:
Understand selling, trust-building, and the relationship between them
Learn answers to the six toughest sales questions that will both set you apart and put you at ease
Recognize the four essential elements of trust, and boost personal scores on each
Apply specific techniques to avoid the trap of "premature solutions" and uncover true client wants and needs instead
Discover ways to get your advice heard and acted on.
KEY TAKEAWAYS FROM PAST PARTICIPANTS
Here's a sampling of what our clients have said they've learned:
Buying and Selling


"People  buy  heavily  through  the  non-rational parts  of  their  mind"
"Just  because  they  said  'tell  us  about  yourselves'  doesn't  mean  they  want  you  to"
"Price  and  features  competition  is  just  the  absence  of  relationship"
"Mention  money  earlier,  not  later"
"Buyers  buy  the  seller  not  the  product"

Business Development


"Selling  by  doing  is  more  powerful  than selling  by  telling"
"Focus  on  this  client's  issue,  not  the  last  one's issue"
"We  almost  never  listen  enough"
"Be curious, be courageous, be yourself"
"Put yourself in their shoes"

Client Relationships


"Somebody must  take  the  first  risk: me"
"It's about the client, not me"
"Client focus is personal, psychological, starts with me"
"Intentions matter; clients can tell"
"A lot of this is about personal courage"
"Ask the tough questions, they pay off"
"Listen, listen, listen"

Problem-Solving and Influence


"Expertise  is necessary,   not  sufficient"
"Better  to  say  you  don't  know  when  you  don't"
"Do  not  accelerate  to  the  solution  too  soon"
"Clarifying the problem is where value-add happens"
 "You have to earn the right to be right"
"I am pleased to report that the program was a phenomenal success with our Business Development team! There were rave reviews … and quite a few AHA moments from various people in the room"–Margaret Miceli, B2B Trust
WHAT ELSE TO EXPECT
There is no trust without risk, and there is no sales transformation without it, either. In our programs, we discuss thought-provoking concepts, teach tough lessons, and engage in candid conversations. We focus on helping you develop new mindsets as well as skill sets by using:
Intellectually challenging models, paradoxes and stories
Real client situations (yours)
Customized caselets
Role-playing
Other experiential learning
Read a real client story. Find out more in our nine-point checklist for successful trustworthiness training. Or talk to us about bringing this program to you.