[three_col pos="first"]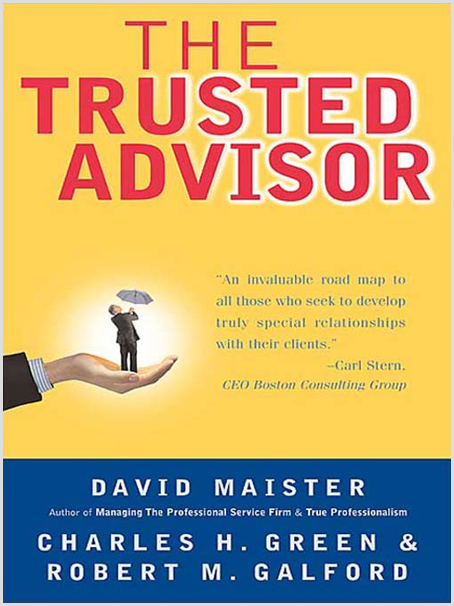 [/three_col][three_col pos="0″]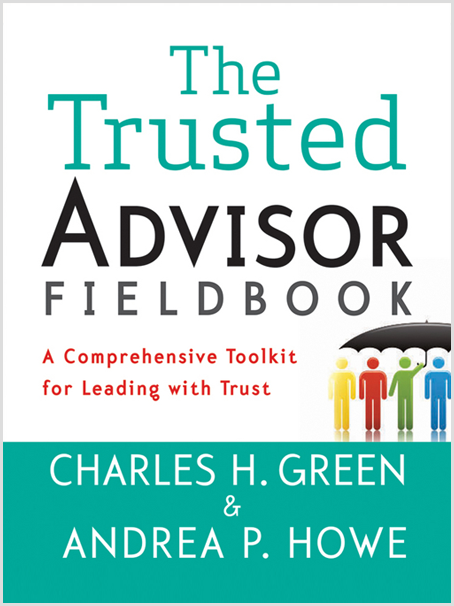 [/three_col][four_col pos="last"]
If you're like a lot of people in client-facing roles, there's a good chance you've had The Trusted Advisor on your bookshelf for over a decade. But are you walking the talk?
[/four_col]
The honest answer is probably "sometimes." And yet trust is the glue that holds great client relationships together. Learning how to build trust consistently and sustainably yields great rewards.
Develop the mindsets, skill sets, and everyday habits of a trusted advisor
The Get Real Project's partnership with Trusted Advisor Associates brings The Trusted Advisor and The Trusted Advisor Fieldbook to life.
"I wanted to thank you and Charlie for your work and help. This program was truly remarkable for both professional and personal growth. The session was transformative. Several of us attended from the same organization, and we have noticed major changes in each other since then. We've also set up monthly meetings to keep each other accountable for applying what we learned." Anna D., senior consultant
WHO SHOULD PARTICIPATE
This program is ideally suited for:
Account managers
Client relationship managers
Front-line consultants
Shared services leaders
Involve your entire organization or strategically targeted groups.
Note: CPE credits are available for our Being a Trusted Advisor workshops.
HOW THE PROGRAM WORKS
We always tailor a program to match your real needs. Choose one of the following or combine several for the greatest impact:
Customized, stand-alone workshops (usually one to three days, staggered or sequential)
Keynotes and mini-modules to add to off-sites, workshops, and other scheduled events
The Trust Quotient diagnostic
Your 30-day experiment
Individual or team coaching
WHAT YOU'LL GET
Exact outcomes depend on the scale and duration of a program. Here's a sample list of program objectives:
Describe four models that are the foundation of all trust-based relationships (the trust equation, trust creation process, trust principles, and four levels of relationship)
Recognize the four essential elements of trust, and boost personal scores on each
Learn the "secret weapon" of influence and know how to put it to work
Apply a socially acceptable way to deal with conflict and put hard truths on the table
Transform your most challenging client relationships.
KEY TAKEAWAYS FROM PAST PARTICIPANTS
Here's a sampling of what our clients have said they've learned:
Client Relationships

"It's about the client, not me"
"Client focus is personal, psychological, starts with me"
"Intentions matter; clients can tell"
"A lot of this is about personal courage"
"Ask the tough questions, they pay off"
"Listen, listen, listen"

Influence and Getting Your Advice Taken

"It's not as much about expertise as we think"
"You have to earn the right to be right"
"Be curious, be courageous, be yourself"
"Clients want to know the limits of your knowledge, not its extent"
"Put yourself in their shoes"

Problem-Solving

"Probe to find the real problem before providing answers"
"Use the phrase 'Help me understand…'"
"Don't jump too soon into solutions"
"Always keep an open mind"

Handling Difficult Situations

"There's big value in speaking the hard truths"
"Taking a small personal risk now lowers business risk later"
"Clarifying the problem is where value-add happens"
"I've participated in many similar training programs, many of them quite good, but this was the most cogent, practicable, scalable and the most effectively facilitated of them all"–Participant, 2013
WHAT ELSE TO EXPECT
There is no trust without risk, and there is no client relationship mastery without it, either. In our programs, we discuss thought-provoking concepts, teach tough lessons, and engage in candid conversations. We focus on developing new mindsets as well as skill sets by using:
Intellectually challenging models, paradoxes and stories
Real client situations (yours)
Customized caselets
Role-playing
Other experiential learning
Find out more in our nine-point checklist for successful trustworthiness training.
Or talk to us about bringing this program to you.