This post is part of our Weekly Tips series.
Last week's story about my latest embarrassing moment (and subsequent muted stupor) reminded me of a favorite Charlie Green story, which concludes with very specific tips for how to deal with awkward silence in a trust-building way.
It's actually a story about Charlie's client, who we'll call Jonah. Jonah had a workday ritual: at 2 p.m. each day, he would call his spouse, ending the call with, "I love you." One day, Jonah was on a call with a client at 2 p.m. At the end of the call … yep you got it … he automatically said, "I love you" and hung up.
Even if you've never accidentally said, "I love you" to a client, you've probably been in a situation where you want nothing more than to pretend "it" never happened, and you all too easily fall into the avoidance trap—like Jonah, who several months later still hadn't spoken to his client since that fateful day.
What Jonah needed to overcome his silence is something we call caveats. Caveats help you begin uncomfortable conversations. They're short, emotionally honest statements that set up the difficult truths to come. You find them by looking inward and identifying your own worries, fears and concerns.
[Tweet "Very specific tips for how to deal with awkward silence in a #trust-building way: #getreal"]
Consider a few of Jonah's options:
"At the risk of embarrassing myself even further, I want to apologize . . ."
"I must be looking pretty foolish right about now …"
"Wow. This is awkward. And I hope I'm not making things worse with this call-back!"
"I forgot to tell you I won't be home for dinner!" (This one's my personal favorite. I don't think we bring nearly enough levity into our oh-so-serious business relationships.)
Everyone loses when awkwardness lingers.
By contrast, caveats help us get over the inertia we all naturally feel in awkward moments. They pack a real punch, because they also reveal our humility, vulnerability, and caring.
And when it comes to building trust, there's a lot to like about all of that.
Make It Real
This week, make a master list of all the caveats you could use when something awkward arises. Use language that's consistent with your style. Then, you'll have your own custom caveats handy when the opportunity arises to use them. (Worry not, it will.)
Learn More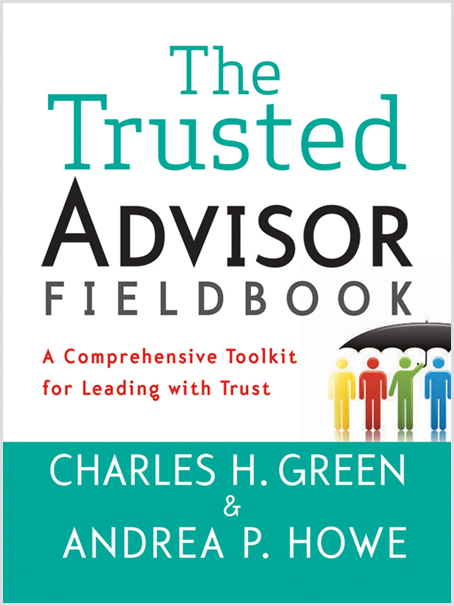 Read about the four-step "Name It and Claim It" technique, which starts with a caveat, or find a worksheet that helps you craft awkwardness-reducing conversation openers in Chapter 9 of The Trusted Advisor Fieldbook.
The following two tabs change content below.
Andrea Howe
As the founder of The Get Real Project, I am the steward of our vision and our service offerings, as well as a workshop leader and keynote speaker. Above all else, I am an entrepreneur on a mission: to kick conventional business wisdom to the curb and transform how people work together as a result. I am also the co-author, with Charles H. Green, of The Trusted Advisor Fieldbook (Wiley, 2012).
Latest posts by Andrea Howe (see all)