This post is part of our Monthly-ish Tips series.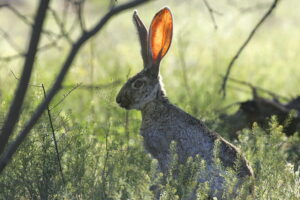 I had a really great experience with a customer support person not too long ago, via chat no less. It wasn't because they were uber-friendly (which oddly tends to annoy me); it was because they did something really simple and distinctive early on that relates to the more rational side of trust-building (which is where most are more comfortable anyway). And few of us do this enough—or consistently enough—with our own clients, whatever the communication medium.
Here's a screen cap showing what "James G" wrote when I got handed over to them because the first tech support person needed to escalate my issue: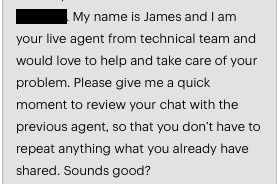 The critical sentence for me that day wasn't "My name is James and I … would love to help and take care of your problem," though that was a nice little dose of intimacy-building from the start that—bonus—I didn't find annoying.
The critical sentence for me that day was, "Please give me a quick moment to review your chat … so that you don't have to repeat anything that you have already shared."
Halle-freakin-lujah.
I first wrote about the power of a quick recap in 2017. It's something you can do verbally or in writing. With a recap, you lead with a handful of bullets (literal or figurative) that summarize the key points you've gleaned from prior interactions. It's a simple practice that packs a punch because it:
Starts with them;
Shows you've been paying attention;
Personalizes your communications;
Helps others clarify or refine their thinking.
I don't know enough about call centers to say why they don't recap more. In fact, great call center experiences are so rare in my world that I nearly always write about them, and the last time was five years ago.
I do know that while I'm more consistent about recapping than I used to be, I still don't recap as often as I could for a multitude of reasons, some or all of which you might relate to: I get lazy (it does take some effort), I convince myself I don't have time (it takes a little bit of that), and/or I forget how impactful it is (being on the receiving end provides a great reminder).
I also know that it is always refreshing to feel like I've been heard. And while this is a particular hot button for me as it's been a "thing" since I was little—I'll spare you the childhood history and individual psychoanalysis—I believe this simple, yet profound experience is one we all need no matter how old we are, and perhaps even more as we grow older.
And when there's a best practice out there that helps us frame up a business issue or opportunity while also meeting someone's deep-seated psychological needs, I'm all for it.
Make It Real
This week, be intentional about how you begin your client communications, both real-time and email. How might you let them know right away that you've been paying attention and that they've been heard?
Learn More
Read why, "So, tell me a little bit about what you're looking for" is a really bad way to open a client interaction, or brush up on specific statements that show you're listening in Chapter 6 of The Trusted Advisor Fieldbook.
The following two tabs change content below.
Andrea Howe
As the founder of The Get Real Project, I am the steward of our vision and our service offerings, as well as a workshop leader and keynote speaker. Above all else, I am an entrepreneur on a mission: to kick conventional business wisdom to the curb and transform how people work together as a result. I am also the co-author, with Charles H. Green, of The Trusted Advisor Fieldbook (Wiley, 2012).
Latest posts by Andrea Howe (see all)