This post is part of our Weekly Tips series.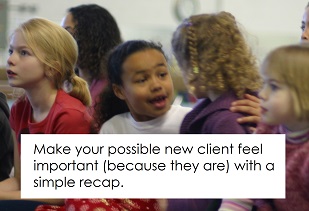 There's a simple practice I do with potential clients about 60% of the time that I realized recently I should do 100% of the time. It takes some effort (though not a lot) and usually has really big payback.
The practice is to do a quick recap of your prior communication at the beginning of your next one. This is especially potent after your very first interaction. In an email, that might look like, "Here are the key points I took from our conversation," followed by a short, bulleted list. In a conversation, it might sound like, "Would you mind if I spent two minutes recapping what I took away from our last conversation?"
I did this twice recently, in writing. Both experiences reminded me why I wish I did this more:
1 – At the beginning of an email that provided general information about our services (mostly boilerplate text). The message was a follow-up to a 30-minute introductory conversation. The recap came first (after salutations, of course), and represented about 10% of the total word count. The response was immediate and very positive: "Really appreciate your time and thoroughness."
2 – At the beginning of a more formal memo, as follow-up to several lengthy conversations over several weeks. I synthesized everything I had heard that mattered to them about the work we were exploring, up front. The client's response: "Not only were you listening; you really got it."
[Tweet "A simple best practice: The quick recap #getreal #communication #relationships"]
Looking back at these two experiences, I am reminded that a simple recap does several important things:
It personalizes your communications;
It shows you were paying attention;
It helps others clarify or refine their thinking;
It makes your possible new client feel important (which they should because they are).
So … why don't I do this more? I get lazy (it does take some effort). I convince myself I don't have time (it takes a little bit of that). I forget how impactful it is (thankfully I got this recent reminder).
My promise to you and to all my clients: more recaps, fewer excuses.
Make It Real
This week, look for opportunities to do a quick recap. See what you learn by doing it, and what kind of responses you get.
Learn More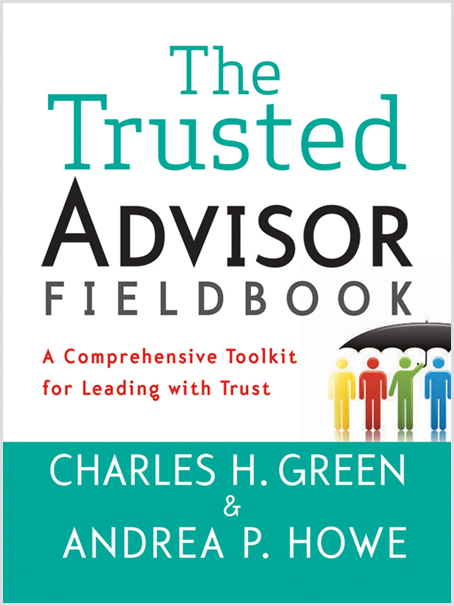 Read more about how to establish trust without saying a thing, from our friends at Trusted Advisor Associates, or brush up on how to start off right in Chapter 20 of The Trusted Advisor Fieldbook.
The following two tabs change content below.
Andrea Howe
As the founder of The Get Real Project, I am the steward of our vision and our service offerings, as well as a workshop leader and keynote speaker. Above all else, I am an entrepreneur on a mission: to kick conventional business wisdom to the curb and transform how people work together as a result. I am also the co-author, with Charles H. Green, of The Trusted Advisor Fieldbook (Wiley, 2012).
Latest posts by Andrea Howe (see all)