This post is part of our Weekly Tips series.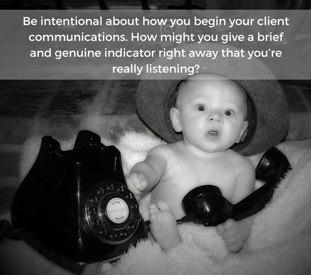 I had a simple yet profound experience with a customer support person the other day. It reminded me of something we should all be doing regularly with our clients.
I was online trying to troubleshoot an issue with my Mac (yes, I did the Big Switch earlier this year after a gazillion years working with PCs).
The support site asked a series of questions and my answers led to the recommendation that I speak with an actual person. I entered my phone number and in less than 30 seconds my phone was ringing. The responsiveness was impressive.
Although that's not what I want to highlight today.
Immediately after the tech greeted me, he said, "So that you don't have to repeat yourself …" and proceeded to briefly describe what he understood to be the reason for my reach-out, based on what he had gleaned from my online entry.
Hallelujah, I thought I heard angels singing.
It was so refreshing to feel like I'd been heard. In the first 15 seconds of our interaction. And the quick recap was such a simple way for the support person to build trust with me quickly.
I compare and contrast this experience with recent doctor visits where I fill out what seems like a tome of paperwork about my medical history only to have the first person who actually sits down to speak with me ask me half of the same questions. What the heck.
I am particularly touchy on this whole subject because not feeling listened to has always been a personal hot button for me. Even if your clients aren't as prone to annoyance, consider the positive effects of a simple recap—with relationships both new and old.
Make It Real
This week, be intentional about how you begin your client communications, both real-time and email. How might you give a brief and genuine indicator right away that you're really listening?
Learn More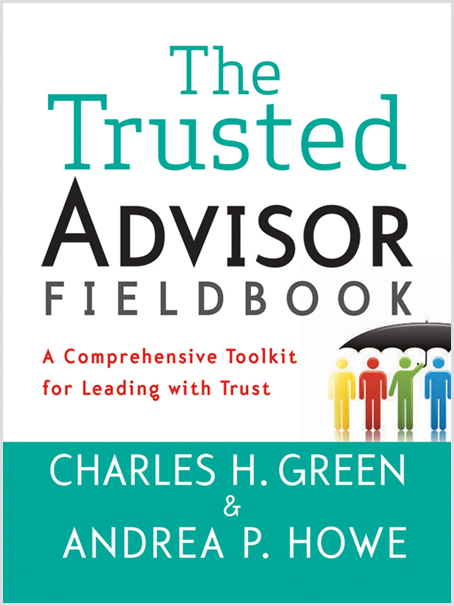 Read why, "So, tell me a little bit about what you're looking for" is a really bad opening line, or brush up on specific statements that show you're listening in Chapter 6 of The Trusted Advisor Fieldbook.
The following two tabs change content below.
Andrea Howe
As the founder of The Get Real Project, I am the steward of our vision and our service offerings, as well as a workshop leader and keynote speaker. Above all else, I am an entrepreneur on a mission: to kick conventional business wisdom to the curb and transform how people work together as a result. I am also the co-author, with Charles H. Green, of The Trusted Advisor Fieldbook (Wiley, 2012).
Latest posts by Andrea Howe (see all)