This post is part of our Weekly Tips series.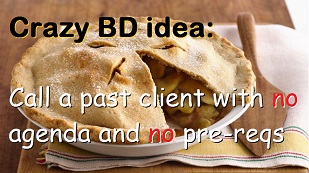 I led a 30-minute webinar a couple of months ago. Attendees were global alumni from a consultancy that has hosted a series of my Trust-Based Business Development programs. The goal: boost everyone's BD efforts over a 30-day period by issuing a "Monday Morning Promise Challenge." The unexpected result: Me re-learning some of my own lessons about easy BD.
The challenge, in a nutshell. Everyone was invited to choose one action to take from the Monday Morning Promise list every week for four weeks (Tuesday through Friday were just fine, too). Here's a quick recap of the list:
Put two people in your network in touch with each other.
Call a past client with no agenda.
Send three hand-written notes of thanks or appreciation.
Have a meeting where your only goal is to listen.
Invite a past client to dinner … 6 months from now.
______________ <--- insert your choice here.
The 30-minute webinar came at the end of the challenge, giving participants an opportunity to share their results—all of which were inspiring, motivational, and tangible.
[Tweet "Humbling personal lessons from taking on the Monday Morning Promise challenge: https://thegetrealproject.com/?p=4676 #getreal #BD"]
My own lessons learned. I decided to participate in the challenge alongside everyone else. I reached out to four former clients. It was both fascinating and humbling, as I found myself guilty of three things that I passionately (albeit nicely) admonish others for:
For me, this comes in the form of "I should do a bunch of research before I reach out to show I've done my homework." Or, "I really need to go through my contacts database and deliberately choose my four clients before I take any action" (which means I don't take any action because the task is overwhelming). For all four I scrapped the pre-requisites and simply picked up the phone or wrote a quick email. And guess what: they all responded immediately.
Thinking short-term. One week, I quickly discounted the client who came to mind because, well, he's retired now, and what could he really do for me? (So much for living the trust principles by focusing on relationships not transactions.) Fortunately, I caught myself and reached out anyway. His reply included a work opportunity.
Being in touch only when I want something. With another client, I realized that in the past I've only been in touch when I wanted something—usually just a quick favor, but still. No surprise he often didn't respond. So my email subject line to him this time was "(Just) hello – no requests this time!" I sent the message at 6:05pm and he replied at 8:53am the next morning.
Maybe the biggest lesson in all of this is that we all need prompts and reminders and a little help along the way to do what's right, because sometimes what's right is counterintuitive or time-consuming or requires a little personal risk-taking.
Make It Real
This week, gather a small group of colleagues and create your own Monday Morning Promise Challenge. Set a date and time when you'll regroup to share your reflections and results. Then hold each other to it.
Learn More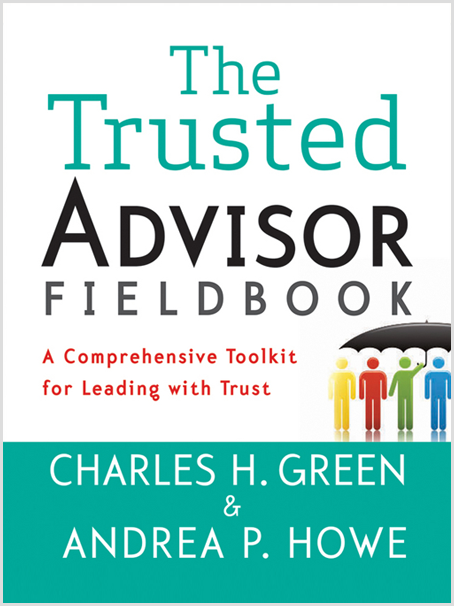 Refresh yourself on the 10 ways to make time for BD, or read about the five pitfalls of online networking in Chapter 12 of The Trusted Advisor Fieldbook.
The following two tabs change content below.
Andrea Howe
As the founder of The Get Real Project, I am the steward of our vision and our service offerings, as well as a workshop leader and keynote speaker. Above all else, I am an entrepreneur on a mission: to kick conventional business wisdom to the curb and transform how people work together as a result. I am also the co-author, with Charles H. Green, of The Trusted Advisor Fieldbook (Wiley, 2012).
Latest posts by Andrea Howe (see all)