This post is part of our Weekly Tips series.
Business development that's both productive and rewarding is much simpler than most of us make it out to be. It requires the right attitude (serve others, not your own goals) and a steady focus (take small steps, consistently over time).
Here's a list of six business development actions that Charlie Green and I created for a client workshop last year. We call it the "Monday Morning Promise" list because the point of it is to choose one action to take every week. And Monday morning is usually a great time for things like this, before the madness of the work week unfolds.
We've shared the list many times since in our programs, with remarkable results for those who took action (even just once):
Put two people in your network in touch with each other. The point: don't make it about you. Do something that benefits them, and only for that reason.
Call a past client with no agenda. This is a really popular one, and you'd be amazed at the results. When you reach out for no reason other than to say hello, and with no expectation of anything in return, the clients who haven't made time for you in months are often right there.
Send three handwritten notes of thanks or appreciation. A long-hand note is a striking differentiator in today's low-touch, technology-driven world.
Have a meeting where your only goal is to listen. Madness, I know. How will you deliver what clients want and expect if you don't share your expertise? You'd be surprised. I have dozens of stories from workshop participants who closed really big deals when they stopped trying to close really big deals, and instead focused on … listening.
Invite a client for dinner … six months from now. If this feels like a strange thing to do, then caveat it, rather than avoid it: "Nancy, I know this may seem like an odd request. I'd love to pencil in time for us to meet for dinner/lunch/breakfast in March. It will be here before we know it. And I want to be sure we stay in touch." One workshop participant got an immediate reply, "Good idea. Only let's get together much sooner as well. I've got some work you might be interested in."
_______________________. This one's dealer's choice. Fill in the blank with something you'd enjoy.
Use this list regularly, and prepare to be surprised at how easy—and fun—business development can be.
Make It Real
This week, choose one action from the Monday Morning Promise list and schedule time to get it done—Monday or otherwise. The overachiever version: Make it a Tuesday Afternoon Promise and do it today.
Learn More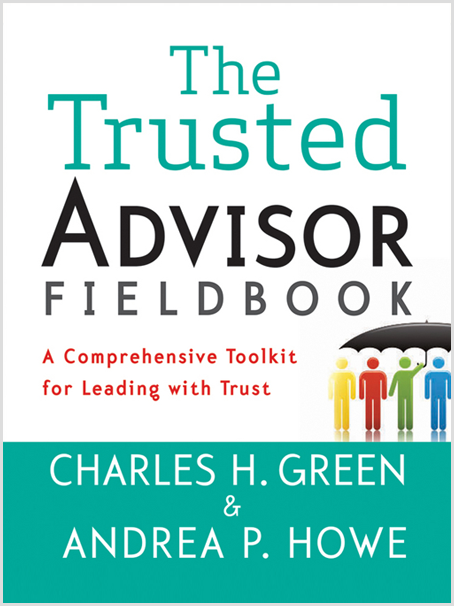 Learn more about the four principles of trust-based selling, from our friends at Trusted Advisor Associates, or read about transparency as a critical business development skill in Chapter 11 of The Trusted Advisor Fieldbook.
The following two tabs change content below.

Andrea Howe
As the founder of The Get Real Project, I am the steward of our vision and our service offerings, as well as a workshop leader and keynote speaker. Above all else, I am an entrepreneur on a mission: to kick conventional business wisdom to the curb and transform how people work together as a result. I am also the co-author, with Charles H. Green, of The Trusted Advisor Fieldbook (Wiley, 2012).

Latest posts by Andrea Howe (see all)