This post is part of our Monthly-ish Tips series.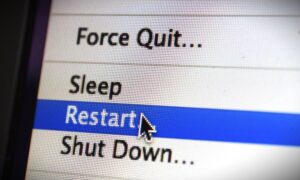 Today's tip is my first "post reboot" tip. While deciding what to write about it occurred to me that there's value for us all to consider how a good reboot is especially beneficial to anyone doing the rewarding—and sometimes tiring—work of a service-oriented role. (Consultants and more, you know who you are.)
First, hello. It's been a minute. My last published Monthly-ish tip was nearly nine months ago, proving there was a lot more emphasis on the "ish" than I had intended. Long story short: all is well. Very well. It's been an exceptionally busy time with some pretty exciting client work on a very different scale than ever before. So that's what I chose to focus on earlier this year.
While I didn't intentionally take time off from writing (in all honesty I just let it get crowded out), on reflection I am reminded that sometimes the best thing we can all do for our clients and for ourselves is to take a little time away—from whatever—and then begin again.
I like this definition of reboot from the Cambridge Dictionary: "To start something again or do something again, in a way that is new and interesting." For me, this involves three key steps:
To start again implies we have to stop first, and it seems to me this first part of a reboot can come in lots of different ways. It can be as simple and quick as a five-minute break: I'll stick my head out the door for a breath of fresh air, step outside to do a little something in the garden, or get down on the floor for a stretch (which also makes my physical therapist happy). Or maybe it's a nine-month hiatus. Either way, it's all good.
Change it up a little. Sometimes this means changing my desk height from sitting to standing. And sometimes it's more dramatic, like approaching the design of a client workshop in a very different way. For the bigger shifts, I nearly always benefit from a little help, like the monthly writing club I've just joined with some very interesting people from various corners of the world. (In fact, I am writing this very tip during my first meeting.)
Say "No, thank you" to any guilt or shame that comes up. My last Tip was all about self-compassion as an uber-habit on the path to extraordinary relationships. (Turns out there's actual science behind what may sound like a squishy suggestion. And it also turns out it's possible to be both earnest and nice to yourself at the same time.) I find that when I let guilt or shame (or both) about the need for a reboot rule the day, I either never get to Steps 1 and 2 at all, or I just end up slogging through in a disempowered way.
I've said it before and I'll say it again: Being at our best, and showing up for people, is rarely easy. It's also never been more important.
Are there ways some kind of reboot might be helpful to you right now? It's worth a few minutes to ponder.
Make It Real
This week, look for different opportunities to reboot in your work life or life—small, big, in between. What do you discover?
The following two tabs change content below.
Andrea Howe
As the founder of The Get Real Project, I am the steward of our vision and our service offerings, as well as a workshop leader and keynote speaker. Above all else, I am an entrepreneur on a mission: to kick conventional business wisdom to the curb and transform how people work together as a result. I am also the co-author, with Charles H. Green, of The Trusted Advisor Fieldbook (Wiley, 2012).
Latest posts by Andrea Howe (see all)