This post is part of our Monthly-ish Tips series.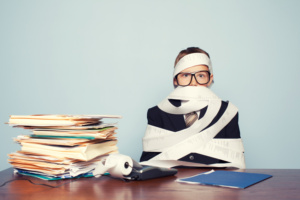 Most of us probably agree both in theory and in practice with the principle of transparency—being honest, open, candid. It is easy to assert that "Honesty is the best policy," but dig a little deeper and it is not so clear. I last wrote a Weekly-ish Tip about how to discern whether to raise a touchy topic a little over five years ago. A recent conversation with a workshop group has me thinking it's time to reprise it.
Consider these scenarios:
You've discovered a mistake in your work. The impact is very minor. Does it contribute to your relationship with your boss or your client to call attention to it? Or is that an unnecessary distraction in an "all about you" kind of way?
You've discovered a mistake in their work. The impact is significant. So is the likelihood of embarrassment (or worse) for them. Are you honoring or dishonoring the relationship by saying something?
You learn something unfavorable about a competitor—one with whom your customer is currently engaged. Are you the hero or the jerk if you bring it up?
I don't think the answers in any of these cases are straightforward. Sometimes a lie by omission seems like a really reasonable option. Transparency takes courage, after all, along with certain level of discernment. And there are actually times when sidestepping the truth might be helpful rather than hurtful.
Enter the "Three-Question Transparency Test," which Charlie Green and I debuted in The Trusted Advisor Fieldbook. It basically suggests you ask yourself (up to) three questions when you're debating "to tell or not to tell":
Question 1: (Dig deep for this one) Is your reason for not telling for your benefit, rather than theirs? We humans naturally avoid scary, uncomfortable stuff—and that includes not telling things when telling is precisely what will best serve the relationship. Is it really in the other person's best interest to say nothing or is your desire to avoid your own discomfort creating a platform for a nice, juicy rationalization? If the answer is yes, make your plan to speak up; if it's no, proceed to Question 2.
Question 2: If you don't tell and they find out later, will they feel misled? This question invites you to see the situation from the other person's vantage point—always a good practice when it comes to relationship-building. If the answer is yes, leave this quiz behind and sort out how best to say something; if it's no, you've got one more checkpoint coming.
Side note: If you're banking on the fact that they won't find out later, check your probabilities … and your motives.
Question 3: Would you tell them if they were your friend? This is my favorite question because it really cuts to the chase and invites us to set aside the arms-length decorum (often masked as "professionalism") that defines most business relationships. You've probably got the hang of this now, but just in case you don't: if the answer is yes, say what needs to be said (with compassion and diplomacy, of course, in which case caveats help immensely); if it's no, saying nothing just might be the good and right thing.
Being transparent 24 x 7 isn't necessarily the best way to honor a relationship in every instance. Being willing to be transparent, on the other hand, is critical to building trust.
I hope these three questions will help you sort out the difference.
Make It Real
This week, reflect on a time in the past when you hesitated to raise a tough or sensitive topic or, even better, notice that you're doing it right now. Apply the Three-Question Transparency Test. What do you discover?
Learn More
Read about the difference between brutal honesty and positive honesty, from our friends at Trusted Advisor Associates, or discover an even simpler test inspired by one of my clients in Chapter 6 of The Trusted Advisor Fieldbook.
The following two tabs change content below.

Andrea Howe
As the founder of The Get Real Project, I am the steward of our vision and our service offerings, as well as a workshop leader and keynote speaker. Above all else, I am an entrepreneur on a mission: to kick conventional business wisdom to the curb and transform how people work together as a result. I am also the co-author, with Charles H. Green, of The Trusted Advisor Fieldbook (Wiley, 2012).

Latest posts by Andrea Howe (see all)