This post is part of our Weekly Tips series.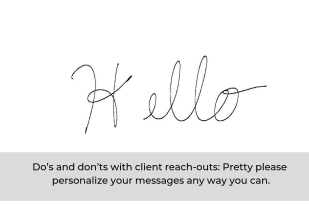 The recent onslaught of holiday messaging (emails, cards, etc.) has brought some important lessons to my attention—specifically, do's and don'ts for your next client reach-outs.
Don't:
Send generic messages. Technology is an enabler here (in a bad way). This year I once again received more than one email with a cute holiday image and a nonspecific message like, "Happy holidays from the Baton Rouge office staff!" While I appreciate the sentiment and enthusiasm, it feels SPAMmy, like those "Congrats on your work anniversary" messages on LinkedIn.
Use a nondescript medium. It's way too easy to use email and social media to blast generalized messages. The easy route isn't usually the route with the best payback.
Make it about you. Every year I get an email from a colleague (an independent consultant) that starts with brief well-wishes for me, then continues with a list of his accomplishments for the year. I know he means well. And it's not bad to share your successes (and offers of help) with people. It just somehow seems like the wrong message at the wrong time. It doesn't help that I'm pretty sure the only thing that's different in each message he sends is the first name in his salutation.
Do:
Personalize your messages any way you can. Yes, this takes time and effort, though probably less than you think. One client sent me a very short and sweet email that didn't seem cookie cutter. Another sent a holiday card to my home, with a hand-written message inside that was clearly just for me. Several people shared their family holiday photo collages (via snail mail as well as electronically), so I could see them with their families, and learn personal tidbits about their year that wouldn't typically come up in a business meeting. (This is one case where making it about you works well.)Noteworthy: I took the time to say thank you in all cases, which means every single reach-out resulted in a conversation that actually contributed to our relationship.
Be distinctive with your choice of medium. Paper stuff usually stands apart in this day and age, and texting can too, as long as the messages aren't generic. I got a few SMS messages from clients and colleagues that I appreciated very much, although the ones that seemed like copy/paste was in play didn't land as well. One client creates a video every year featuring select staff sharing things like uncommon holiday traditions, or what they're grateful for, which I find interesting and fun.
Find holidays/events/milestones to celebrate that are distinctive. Pretty much everyone gets on the Christmas bandwagon, even though a lot of people don't celebrate Christmas (which is also far more important to consider than most people think). Personally, I like a New Year's message better than a December message of any kind.Even better, I prefer opportunities to reach out that most don't consider—in the U.S., that could include Mother's/Father's Day, Fourth of July, Thanksgiving (a great opportunity for notes of gratitude), birthdays, anniversaries. I've even been known to send Valentine's Day cards to my clients. (There's a way to do it that's fun, not weird.)
Here's my plea: If you're going to reach out to people, then reach out to people.
It's not too early to plan the ways you'll take a more distinctive approach in 2019. Valentine's Day is just around the corner.
Make It Real
This week, make a plan for at least one distinctive reach-out initiative in 2019—with clients, colleagues, or both. Involve your team if you have one.
Learn More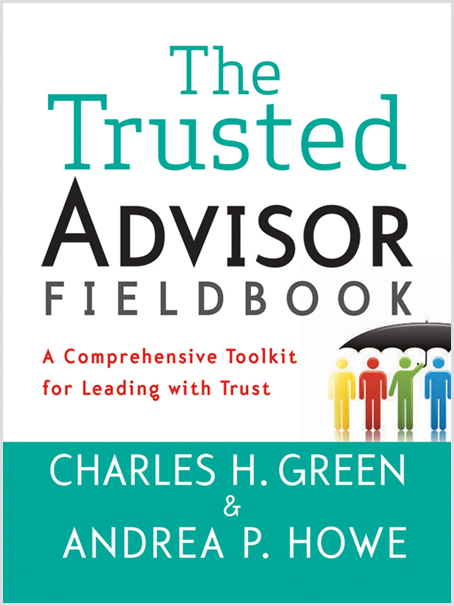 Speaking of social media, check out Charlie Green's and my debate about Twitter, or brush up on trust-based networking dos and don'ts in Chapter 12 of The Trusted Advisor Fieldbook.
The following two tabs change content below.
Andrea Howe
As the founder of The Get Real Project, I am the steward of our vision and our service offerings, as well as a workshop leader and keynote speaker. Above all else, I am an entrepreneur on a mission: to kick conventional business wisdom to the curb and transform how people work together as a result. I am also the co-author, with Charles H. Green, of The Trusted Advisor Fieldbook (Wiley, 2012).
Latest posts by Andrea Howe (see all)