This post is part of our Weekly Tips series.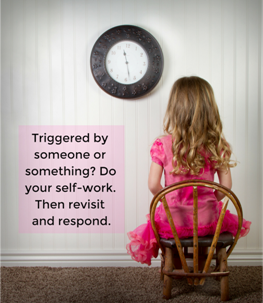 2018 ended on a humbling note for me in some important ways, including a couple of screw-ups on my part. Nothing earth-shattering or life-threatening, just lesson-inducing. I'm sharing the most recent screw-up—and the learning it recalled—because, as usual, I think we can all benefit.
The screw-up: I got triggered by a question that someone (innocently) asked me via email and indulged in my reactive state by sending a lengthy and negative reply. What's worse, it was relatively late in the evening and I prefaced it with, "I don't really have the bandwidth to talk about this right now" … yet I continued on. I next admitted to being triggered in a self-congratulatory way ('Look how insightful I am!') And then I proceeded to dump all over her in writing. Class act LOL.