This post is part of our Weekly Tips series.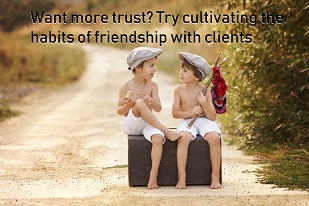 Sometimes it's so much easier to preach than to practice. I noticed a disconnect between my words and actions the other day. I'm calling myself out here because (a) it's cheaper than therapy and (b) there might be a little nugget in the story that will help you, too.
A few months ago, I started repeating something that a participant had said in a trust-based business development workshop I was leading, because I thought it was so wise: "Friends text each other." (Or, if you're outside the U.S., "Friends SMS each other.")
The comment was made in the context of a discussion about how to connect with clients in distinctive and meaningful ways. I started repeating the assertion not because texting is always appropriate with clients (sometimes it's the exact wrong thing to do), and not because texting is always a meaningful way to connect (sometimes it's the opposite), and not even because it's necessarily relevant to strive to be friends with clients (it's a nice byproduct, not a requirement, of trusted advisorship).
I started repeating the phrase, "Friends text each other" because cultivating the habits of friendship is entirely relevant when it comes to trust-based relationships, as is taking the personal risks required to gain entry to someone's inner circle.
Within days of saying the phrase yet again, to a group of partners at a global accounting firm, I found myself hesitating to send the all-important First Text to the group's leader—the one who has been championing a series of workshops for his geographically-dispersed 200-person team.
My first (higher) instinct was to text him as an easy way to let him know that I had arrived in the next city on our tour—benign, by all counts. My second (baser) instinct quickly intervened: "But wait! You've never texted before! What if it's 'too soon?' What if he doesn't want to be that friendly with you? What if he doesn't reply?"
Mind you, we've been working together for nearly a year. Our relationship is strong. It is, in fact, quite friendly. I know from our conversations that he's a texter. And yet my fear-based concerns were right there, ready to talk me out of following the very advice I had been giving—ironically, with him in the room.
The good news about all this trust-building stuff is that fear is normal and totally surmountable; once we see it in play, then we get to make a choice.
Avoiding hypocrisy is also a great motivator for me, so I took a deep breath and texted him. Yeah, OK, I was semi-wimpy about it because I included his chief of staff on the message, with whom I already had a texting relationship. Still, I did it. Rome wasn't built in a day.
He replied immediately, and positively, and within 24 hours I had taken the big bold step of a solo text—not just for the sake of texting, to be clear, but because it was an efficient yet friendly way to say goodbye as I was leaving the hotel and noticed him at a distance in the hotel restaurant. I got another immediate and positive reply.
So it's official: we're on texting terms. And while our families may or may not vacation together in the Poconos next summer, my client and I have a new communication channel available to us.
I also took another small step towards moving past my primal fears, and I've learned to celebrate that every time.
Make It Real
This week, focus on friendship. Make a short list of the ways you typically interact with friends. Compare and contrast that to your usual approach with clients. Where is there opportunity to borrow from the friends list to take your client relationships to another level?
Learn More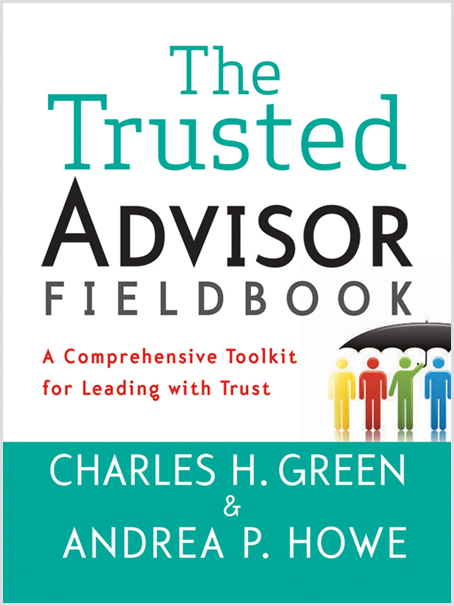 Speaking of fear, discover ways to vanquish fear in selling, thanks to our friends at Trusted Advisor Associates, or refresh on ways to build intimacy quickly in Chapter 21 of The Trusted Advisor Fieldbook.
The following two tabs change content below.

Andrea Howe
As the founder of The Get Real Project, I am the steward of our vision and our service offerings, as well as a workshop leader and keynote speaker. Above all else, I am an entrepreneur on a mission: to kick conventional business wisdom to the curb and transform how people work together as a result. I am also the co-author, with Charles H. Green, of The Trusted Advisor Fieldbook (Wiley, 2012).

Latest posts by Andrea Howe (see all)