This post is part of our Weekly Tips series.
I've been meaning to write about a trust lesson I learned recently on an Amtrak trip. Last week's tragic accident on the Northeast corridor compels me to write it sooner rather than later. Life is short, and it's important to acknowledge people who make a difference in your life.
This week's lesson is about the courage to state a point of view. It involves food.
A few weeks ago, I was traveling from New York City back to Washington D.C. It was late on a weeknight. A mad rush hour dash to the train station meant there was no time to grab dinner before boarding. Famished, I made a bee-line for the Café Car as soon as I claimed a seat.
The friendly guy behind the counter asked me what he could get me. I knew I wanted something hot; I just didn't know what. So I answered by soliciting his opinion: "Pizza or cheeseburger?"
To which he immediately and resolutely replied, "Hot dog."
I laughed. He explained that in his experience the hot dog was by far the tastiest menu option. He was upbeat, outgoing, and confident. Then he added, "Cheeseburger would be my second choice."
Still a little reluctant to let go of both of my top two choices, I asked whether cheeseburger was a close or distant second for him. Without hesitation (again) came his affable reply: "Distant."
So hot dog it was. Turns out it was actually a pretty good hot dog, as hot dogs go. He knew his product well. And I enjoyed my meal all the more because of my pleasant and efficient interaction with the SME who sold it to me.
The exchange reminded me of the power and importance of having and asserting a point of view, even when it's not what you think your client wants to hear. This is the "advisor" part of the term "trusted advisor" and it's critically important. You build trust in the process of sharing your knowledge and opinions when you do so with a blend of confidence, courage, directness, humility, good humor, and great timing.
To my Café Car buddy, I say this: Thank you for a nice meal at the end of a long day. More than that, thank you for being a great role model. I hope you weren't on train 188 last week. And if you were, I sure hope you're doing OK. This week, in your honor, I vow to be more like you with my clients.
Make It Real
This week, reflect on your role models when it comes to leading with trust. Look for them in unexpected places. What lessons do they teach you? How might you honor them this week?
Learn More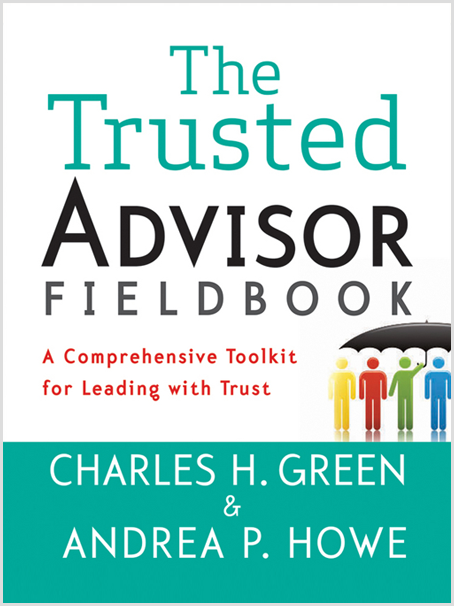 Read about eight ways to make people believe what you tell them, from our friends at Trusted Advisor Associates, or brush up on all four variables of the trust equation in Chapter 4 of The Trusted Advisor Fieldbook.
Until next week …
The following two tabs change content below.

Andrea Howe
As the founder of The Get Real Project, I am the steward of our vision and our service offerings, as well as a workshop leader and keynote speaker. Above all else, I am an entrepreneur on a mission: to kick conventional business wisdom to the curb and transform how people work together as a result. I am also the co-author, with Charles H. Green, of The Trusted Advisor Fieldbook (Wiley, 2012).

Latest posts by Andrea Howe (see all)