This post is part of our Monthly-ish Tips series.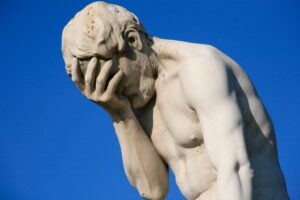 Of the 200,000+ people who have taken Trusted Advisor Associates' online Trust Quotient™ self-assessment (TQ for short) they rate their own reliability higher than any of the other three variables of the trust equation (and nearly 21% higher than intimacy). Unfortunately, few of us are as good as we think for reasons I will reveal in short order.
I'm not surprised by the high scores because reliability is generally the most logical, concrete, and action-oriented dimension of trustworthiness, which means it's relatively easy it is to grasp and act on. Also, in the world of professional services, which is the world in which I spend the most time, reliability's importance is emphasized on a regular basis. "On time and within budget" is a common promise and/or cause for celebration.
While reliability seems like a trustworthiness "slam dunk," there's room for us all to improve. I am no exception. The irony of me writing a very sporadic "Weekly-ish" Tip today about reliability isn't lost on me. Though in my defense, I routinely score myself low on reliability, so I have no delusions about my own liability.
But I digress.
If you score yourself high on reliability you may not be as good as you think for at least two reasons: (1) you may not see your own inconsistencies and (2) you may not realize the significance of communication as an integral part of good reliability maintenance.
Case in point: Consider how participants in our programs handle the various commitments that our programs demand, like pre-work assignments. When a group is given a link to take the TQ, for example, they'll get a message 10 days before the program begins with a due date. The TQ requires about seven minutes to finish, and if there are other assignments, we're usually talking 20-30 minutes tops.
People generally fall into one of three categories:
Get it done late with no acknowledgment (slightly more than half)
Never get it done, also with no acknowledgment (some)
Get it done on time (very few).
And yet reliability almost always comes out as the highest-scoring variable for the majority. You see the irony, right?
Defenders are quick to note that client priorities should always take precedence over "training programs." While I understand where this thinking comes from, and also have compassion for the challenge of "never enough hours in the day," here's the rub of reliability: Consistency matters. If you apply reliability best practices more with your clients and less with your colleagues (including your program instructors), then your actual reliability score naturally takes a hit.
What so many routinely miss is that a marked improvement doesn't require a magic wand that uncovers a 25th hour in a day (though if you have such wand, please share source); the remedy largely lies in better communication—as in, let people know as quickly as possible when you realize you're unable to fulfill on a promise so you can understand and acknowledge the impact, and reset expectations. Or at least acknowledge that you're tardy when you're tardy. So much can be so easily remedied by taking just a moment or two to be in touch.
If there's a bit of good news, it's that perfection is far from necessary when it comes to reliability (and trustworthiness overall). There's always room for error and for our humanity. What matters for us all is being rigorously self-aware, transparent about our strengths and weaknesses, and willing to hold ourselves to higher and higher standards of execution.
Make It Real
Writing this post was one action I chose to boost my own reliability today. What's one of yours? This week, try out a new reliability practice—however small it might be—and test it out. What do you discover?
Learn More

Find out why you should NOT always exceed expectations from our friends at Trusted Advisor Associates, or explore a special aspect of reliability that's a key ingredient for working at a distance in Chapter 27 of The Trusted Advisor Fieldbook.
Until the next time … whenever that will be …
The following two tabs change content below.
Andrea Howe
As the founder of The Get Real Project, I am the steward of our vision and our service offerings, as well as a workshop leader and keynote speaker. Above all else, I am an entrepreneur on a mission: to kick conventional business wisdom to the curb and transform how people work together as a result. I am also the co-author, with Charles H. Green, of The Trusted Advisor Fieldbook (Wiley, 2012).
Latest posts by Andrea Howe (see all)