This post is part of our Monthly-ish Tips series.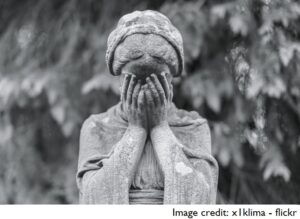 I know quite a few clients who are dealing with loss right now, so I'm reprising a Tip I wrote in 2015 that was inspired by then-Facebook COO Sheryl Sandberg at the end of her first 30 days of mourning for her late husband. On the last day of sheloshim, which marks the completion of religious mourning for a spouse, she shared a compelling and beautifully written post on … well, Facebook, of course.
Among other things, Sheryl's essay includes extraordinary lessons for anyone struggling to find the best or right way to acknowledge another person's grief.
If you haven't known a client who has experienced a profound loss during the course of your relationship, it's only a matter of time. When it happens, here are three simple Do's and Don'ts that I culled from Sheryl's thoughtful and heartfelt writing:
DON'T: Say nothing.
DO: Be honest if you don't know what to say, as in, "I'm at a loss for what to say." Acknowledge the elephant in the room.
DON'T: Ask, "How are you?" How do you think they are?
DO: Ask, "How are you today?" or "How are you in this moment?" It shows you care without asking an insensitive or daunting question.
DON'T: Assume hope is the most comforting thing you can offer and assure them everything will be OK, as in, "You and your children will find happiness again." In Sheryl's post she shares this personal insight: "I have learned that I never really knew what to say to others in need. I think I got this all wrong before; I tried to assure people that it would be okay, thinking that hope was the most comforting thing I could offer."
DO: Speak the truth. Be willing to acknowledge that things are in fact NOT OK. If you can't personally relate to the situation, you might offer some simple and heartfelt empathy. If you do have some personal experience with their circumstances, you might offer hope combined with honesty: "You will find a new normal, but it will never be as good."
It seems like it's easy to say the wrong thing. It's also not all that hard to say the right thing. It just takes a little sensitivity and courage.
Make It Real
This week, consider the people you've been avoiding because something awkward or uncomfortable has been in the way. Reach out. Life is short.
Learn More

Read Sheryl's full post.
The following two tabs change content below.
Andrea Howe
As the founder of The Get Real Project, I am the steward of our vision and our service offerings, as well as a workshop leader and keynote speaker. Above all else, I am an entrepreneur on a mission: to kick conventional business wisdom to the curb and transform how people work together as a result. I am also the co-author, with Charles H. Green, of The Trusted Advisor Fieldbook (Wiley, 2012).
Latest posts by Andrea Howe (see all)