This post is part of our Monthly-ish Tips series.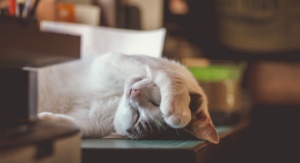 I got an email from a client-turned-colleague-now-also-friend not long ago. It was a spontaneous reach-out and she really nailed it in terms of balancing competing priorities, like how to stay in touch in a genuine and meaningful way without inflicting more video call fatigue—or just plain fatigue—on either of us.
I'll call her "PJ." Here's what PJ wrote:
I was just sitting here, writing about qualifying prospects, and listening to Burt Bacharach music when I got to thinking about you! It's been way too long, and this pandemic has made it so exhausting to do… well just about anything. 
I just had to let you know I was thinking about you with a smile, and that I hope all is going well for you and Alan. 
I know we will catch up before long. That's what friends do! 
Here are six things I really love about this communication:
PJ let me know I was on her mind while not obligating either of us to another Zoom call.
I learned something about her (Burt Bacharach?!).
I got an unexpected dose of therapeutic empathy (along with a chuckle). "Exhausting" was really ringing true for me that day.
It simply felt good knowing I had brought a smile to her face, and being reminded that she not only cares about me but also members of my immediate family.
Her words instantly eliminated any lingering guilt about our jointly failed attempt to manage a Zoom touch-base a couple of months prior.
The no-pressure zone she created—for us both—makes me all the more inclined to find a way to connect in the future. (Sales is like that, too, by the way.)
That's a pretty big win for a pretty short email that basically leads … nowhere.
Long-time readers will know that I dearly value "high touch" communications—for my own sake, and for the sake of the business world in general. I think meaningful connections matter and I've always been a strong advocate for going higher bandwidth whenever possible—i.e., pick up the phone rather than send an email. But one thing the last year has taught this particular introvert is that sometimes more talking just isn't feasible, and one thing PJ taught me is there are myriad ways to let people know they matter to you.
Make It Real
This week, try your own variation of a PJ message, applying your style and sentiments. What do you discover?
The following two tabs change content below.

Andrea Howe
As the founder of The Get Real Project, I am the steward of our vision and our service offerings, as well as a workshop leader and keynote speaker. Above all else, I am an entrepreneur on a mission: to kick conventional business wisdom to the curb and transform how people work together as a result. I am also the co-author, with Charles H. Green, of The Trusted Advisor Fieldbook (Wiley, 2012).

Latest posts by Andrea Howe (see all)