This post is part of our Monthly-ish Tips series.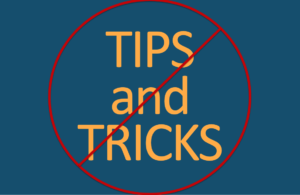 I'm just back from several weeks of staycation. I am refreshed. It's a new year. Some things have changed. And yet lo and behold: our virtual working reality persists! Colleague Noelle Mykolenko and I did some thinking in late 2020 about how best to build trust under our collective circumstances. I'm thinking a recap that includes all the best practices we came up with would be helpful as everyone's new normal continues.
Noelle and I started with a foundational blog post called, "The 80/20 rule for Virtual Relationships (Part I): Beware the Seductive View That "It's Different Now". It was our call to lead with time-tested relationship principles (80%) and shore them up with virtual best practices (20%), not the other way around.
Here are three of our six key points:
Relationship-building and selling aren't really different these days, in spite of what people who sell these things are trying to tell you, and in spite of what your own fears are whispering—or maybe shouting—in your ear.
Speaking of fear, it's the biggest trust de-railer for us all right now. Same as it has always been, only amplified x 10.
Tips and tricks have never saved you before and they won't save you now. Perfecting your office lighting is seductive, in the same way it's always been tempting to tinker with a deck that contains far too much content to begin with.
Then we shared three subsequent posts with 20 specific best practices to improve both relationship EQ and virtual IQ:
When things are going well, it's so easy to ignore mediocre relationship skills because you're successfully getting the next sale or getting the job done. Now more than ever is the time to do some serious personal work so that you can get seriously focused on how to make a difference for your clients and other people who matter to you.
Make It Real
This week, choose two time-tested relationship principles to double down on and one virtual best practice to ramp up. (True that's more like 65/35, but it's also important not to take on too much while we're simultaneously managing all those extra resolutions-related tasks.)
Learn More
Check out our recorded webinar on the topic that features 10 of our 20 best practices, or read Charlie Green's and my foundational thinking on building trust at a distance in Chapter 27 of The Trusted Advisor Fieldbook.
The following two tabs change content below.

Andrea Howe
As the founder of The Get Real Project, I am the steward of our vision and our service offerings, as well as a workshop leader and keynote speaker. Above all else, I am an entrepreneur on a mission: to kick conventional business wisdom to the curb and transform how people work together as a result. I am also the co-author, with Charles H. Green, of The Trusted Advisor Fieldbook (Wiley, 2012).

Latest posts by Andrea Howe (see all)