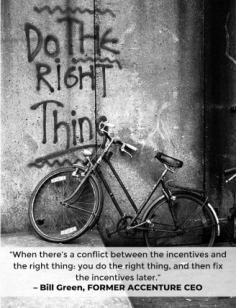 Last week's tip on creating a high-trust culture reminded me of a compelling story about one global CEO's take on how to resolve the disconnect that can exist between the trust principles we all aspire to and the ways we're incented to do business.
We shared this story in The Trusted Advisor Fieldbook. It came about when my co-author, Charlie Green, had the opportunity to watch Bill Green, then-Chairman and CEO of Accenture (and no relation). Bill was addressing a very senior leadership group at the end of a two-day offsite.
Relaxed, Bill sat on a chair on a small platform and took questions from the 75–80 people in the room. One of those questions—about halfway in—had to do with a recently announced organizational shift. Things grew momentarily tense.
"Bill," the person asked, "how do we know that the incentives are rightly aligned with the new global roles; that if I ask my colleague in Eastern Europe or Australia for help, they'll be incented to do the right thing?"
Green quickly stood up, visibly tensing at the question.
"Let me … well … ," he sputtered, "Okay, I guess I'm glad you asked that question. Because I want to tell you—I don't want to hear that question again!
"I expect everyone in this room to get this; moreover, I expect everyone in this room to make sure you teach everyone back in your offices too.
"When there's a conflict between the incentives and the right thing: you do the right thing, and then fix the incentives later. Understand? This is critical.
"We must be a values-driven organization before we are an incentives-driven organization. You design incentives to reinforce and reward behavior—you don't design them to drive behavior. Values are what we need to drive behavior. If there's a mismatch: you fix the incentives. After you do the right thing.
"And just to be clear: the right thing is almost always defined in terms of the client—not in terms of our internal P&L."
That's precisely what leading with trust sounds like.
This week, reflect on (or collect) your own inspiring stories of trust-based leadership. Who are your role models? How can you be more like them?