This post is part of our Weekly Tips series.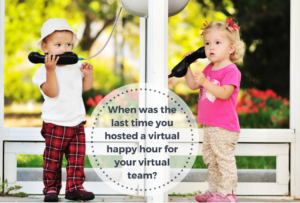 I recently came across two great best practices for building trust virtually: one to use with your team and one to use with your clients.
For your team: A virtual happy hour. I hosted one of these a few weeks ago. We gathered various members of my team from various parts of the US (including different time zones) for 45 minutes using Zoom, so we were all on video. We called it a "happy hour" (as the old saying goes, it's 5 o'clock somewhere) and I invited everyone to join with their drink of choice—alcoholic or otherwise.