This post is part of our Weekly Tips series.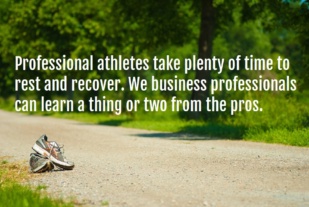 The Roman poet, Ovid, was onto something really important for us 21st century professionals when he said, "Take rest; a field that has rested gives a bountiful crop."
That's exactly what I'm choosing to do this week. Actually, I'm doing it all month, as I have every year for the past four years, because it's time for my annual summer sabbatical: four weeks of mostly staycation, with a few simple rules:
No airports
No rushing
No lists (except for this one).
I'm typing these words in advance in order to fill the Weekly Tips hopper before going off the work-related grid. And as I'm writing, it occurs to me that there's wisdom for us all in the Ovid quote (which is also the inspiration for my out of office message for the month).
As much as I'm committed to excellence and mastery and "raising the bar" and all that when it comes to relationship-building—and I think you have to be if you want to be a no-kidding trusted advisor—I think we all need to take a rest now and then. That means letting go of the striving and endeavoring to instead just focus on breathing and being.
Professional athletes take plenty of time to rest and recover. Why shouldn't we?
The following two tabs change content below.

Andrea Howe
As the founder of The Get Real Project, I am the steward of our vision and our service offerings, as well as a workshop leader and keynote speaker. Above all else, I am an entrepreneur on a mission: to kick conventional business wisdom to the curb and transform how people work together as a result. I am also the co-author, with Charles H. Green, of The Trusted Advisor Fieldbook (Wiley, 2012).

Latest posts by Andrea Howe (see all)