This post is part of our Weekly Tips series.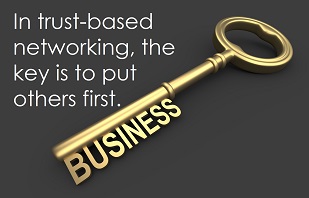 We're continuing our focus on trust-based networking from last week, because it's a challenge for so many.
Here's a quick recap: trust-based networking starts with a very different goal (to help other people develop their businesses), and the best practices cascade from there. The first five are:
Be present.
Recognize others' contributions.
Collaborate.
Talk about you less and them more.
Add value.
This week, let's add the next five from The Trusted Advisor Fieldbook:
Diversify your network. You can easily get stuck in ruts, such as hanging out only with people just like you, or those above you who can do you a favor, or those who look up to you. For everyone's benefit, mix it up.
Research. Do a little advance work. Information is widely available, and it is a fundamental sign of respect to do your homework. On a regular basis and certainly before any explicit networking event, make the effort to learn about the people you want to meet.
Make introductions. One of the best ways you can help others is to help them build their networks. Review your connections from time to time: who among your relationships might benefit from being directly connected with each other?
Take better notes. You may wish you had better recall of past networking interactions. The notes you scribbled on business cards are hard to read; the notes you meant to take after a phone call never got taken. Trust-based networking thrives on having a rich memory—the quality of your relationships improve, as well as your ability to provide detail and context in the introductions you make to others. Get into the practice of taking more notes, immediately after your interactions, using better media.
Keep making contact. The purpose of networking is not to "capture" a name for your database, but to develop a relationship. The true tools of networking are lunch dates, drop-in visits, calls, e-mails, handwritten thank you notes, congratulations, thinking-of-yous—in short, human contact.
Consider the core lesson in this little tale: Once upon a time a gentile came to the Rabbi Hillel and asked to be taught the entire Torah while standing on one leg. Hillel said, "That which is hateful to you, do not unto another. This is the whole Torah. The rest is commentary. Go study."
Trust-based networking is like that. The basic rule is to put others first; the rest is commentary.
Now, go practice.
Make It Real
This week, (re)consider an upcoming networking opportunity. How might you put some or all of the ten best practices to work?
Learn More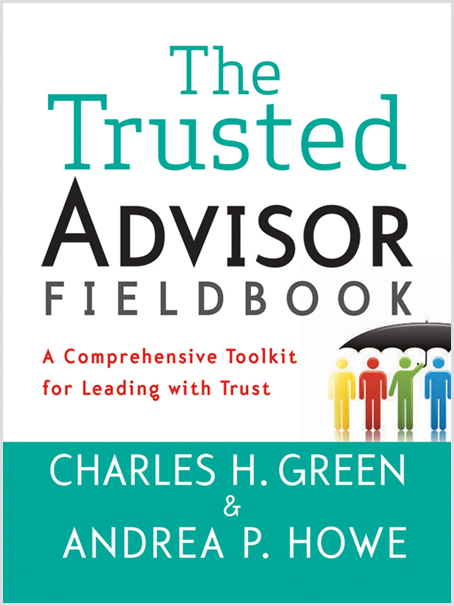 Read about "empty calorie social networking," from our friends at Trusted Advisor Associates, or read a childhood networking lesson from the retired CEO of Travelocity in Chapter 12 of The Trusted Advisor Fieldbook.
The following two tabs change content below.

Andrea Howe
As the founder of The Get Real Project, I am the steward of our vision and our service offerings, as well as a workshop leader and keynote speaker. Above all else, I am an entrepreneur on a mission: to kick conventional business wisdom to the curb and transform how people work together as a result. I am also the co-author, with Charles H. Green, of The Trusted Advisor Fieldbook (Wiley, 2012).

Latest posts by Andrea Howe (see all)