This post is part of our Weekly Tips series.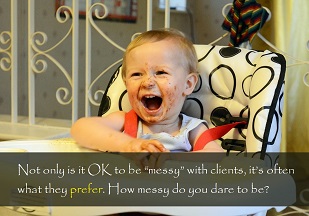 "Early and ugly" is what a prized client once said he wanted from his consulting firm.
The client delivered this pearl of wisdom a long time ago to Wayne Simmons, a career consultant who was then the managing partner of an award-winning boutique consulting firm.
Wayne and I were working together at the time. He shared the client's request with his rapidly growing team in a big meeting, emphasizing, "Our very senior client is telling us he doesn't want to wait weeks or months for a polished deliverable; he wants to be part of the action every step of the way."
Wayne was much more comfortable with the client's message than I was, and than I still am, I hesitate to admit, many years later. "That's exactly how we like to work," I remember him saying.
I get it, I really do. I'm just not all that good at it. My own self-orientation gets in the way. The Recovering Perfectionist in me regularly tries to pull me away from valuable trust-building tools like "thinking out loud," and towards more risk-averse ways of working.
Nevertheless, it's a great reminder that not only is it OK to be messy* with our clients, it's often what they prefer.
How messy do you dare to be?
*The good kind of messy, not the unprofessional kind of messy.
Make It Real
This week, look for opportunities in the next two weeks to deliver something "early and ugly." What action will you take?
Learn More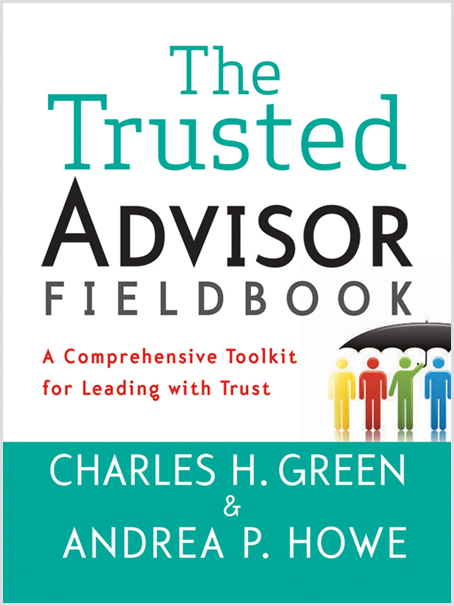 Read about why it's so hard to collaborate, from our friends at Trusted Advisor Associates, or brush up on thinking out loud and other improvisational best practices in Chapter 8 of The Trusted Advisor Fieldbook.
The following two tabs change content below.

Andrea Howe
As the founder of The Get Real Project, I am the steward of our vision and our service offerings, as well as a workshop leader and keynote speaker. Above all else, I am an entrepreneur on a mission: to kick conventional business wisdom to the curb and transform how people work together as a result. I am also the co-author, with Charles H. Green, of The Trusted Advisor Fieldbook (Wiley, 2012).

Latest posts by Andrea Howe (see all)