This post is part of our Weekly Tips series.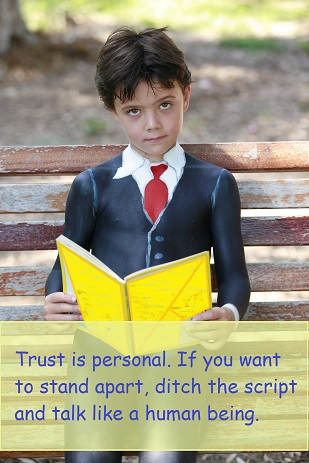 Last week's post on the perils of the "assumptive close" got me thinking about a real-life example of how a financial advisor's robotic (and safe) cold call killed my trust and lost my business. Consider this another cautionary tale that's not meant only for more traditional salespeople. I bet if you look hard enough, you'll find yourself in the example no matter your role, if only a little … a little too risk-averse, a little too "professional," a little too brief.
Here's the script read by a financial advisor (into my voice mail) a few years ago (yes, I actually transcribed it):
"Hello, this message is for Andrea Howe. This is RW calling from ABC Financial in Minneapolis. I hope you're doing well.
"I'm a financial advisor here calling to introduce myself but also looking to set up some time to speak with you over the phone to review your finances and discuss any of your concerns and what you're working towards.
"So please call me back at 555-555-5555, extension 555.
"Again, that's RW with ABC Financial. Thank you so much and I look forward to speaking with you soon. Have a good one."
Do you see the problem? Savvy consultants will say, "Yeah, she didn't offer anything of immediate value. She didn't build her credibility."
I think the issue actually goes way deeper than that. She didn't get real with me. It's not a low credibility problem; it's a low intimacy problem.
Here's what I wish RW had said, for both our sakes. You'll see it doesn't lead with "providing value":
"Andrea, this is RW calling from ABC Financial in Minneapolis. You have no idea who I am and, from your perspective, no reason to give me the time of day. I'm sure time is something you have precious little of.
"Here's what I know: it's been ten years since you were an active client. I know every year you get a call from someone like me because our database tells us to call. I don't know for sure, but I'm guessing you hate these calls. I apologize on behalf of my company and my colleagues for time we've wasted in the past.
"There's a good chance your financial advisory needs are being met. Ten years ago you were starting your own business and poised for success. I bet you've come a long way in that time.
"If by chance your financial advisory needs aren't being met, or aren't being met to your satisfaction, I'd like to have the opportunity to be of service. I would gladly offer a free portfolio review as a way for you to get to know me and my skills. There's no obligation to say yes to the review, or to doing business together after the review. I won't waste your time if we talk, and if at any point we reach the conclusion that it doesn't make sense to go any further, then we won't.
"If you've gotten this far in this message, thank you for taking the time.
"My personal cell number is 777-777-7777. I'll gladly take your call any day, any time."
Let's compare the probable outcomes for each message:
| | | |
| --- | --- | --- |
| | The Actual Version | The Get Real Version |
| Probability of getting my positive attention | Zero | High |
| Probability of a return call | Zero | Medium |
| Probability of getting a referral from me, even if we don't do business together | Zero | Low to Medium |
You tell me: which version has the better likely payoff?
Trust is personal. If you want to stand apart, find ways to make it real.
A version of this article was originally published on Forbes.com.
Make It Real
This week, notice when you're leaning too heavily on credibility as your pathway to trust-building. How can you make your outreach more real?
Learn More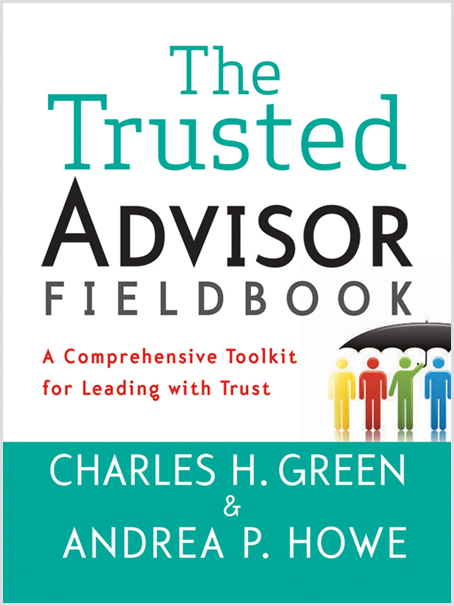 Read about "bringing a risky gift" as a sales strategy, from our friends at Trusted Advisor Associates, or brush up on how to think differently about objections in Chapter 14 of The Trusted Advisor Fieldbook.
The following two tabs change content below.

Andrea Howe
As the founder of The Get Real Project, I am the steward of our vision and our service offerings, as well as a workshop leader and keynote speaker. Above all else, I am an entrepreneur on a mission: to kick conventional business wisdom to the curb and transform how people work together as a result. I am also the co-author, with Charles H. Green, of The Trusted Advisor Fieldbook (Wiley, 2012).

Latest posts by Andrea Howe (see all)