This post is part of our Weekly Tips series.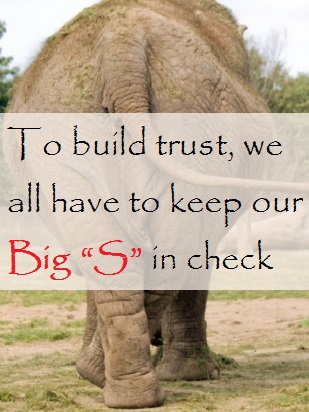 One of the greatest opportunities for us all to improve our trustworthiness lies in the self-orientation variable of the trust equation. Fortunately, there are specific things we all can do about that.

Simply defined, self-orientation is about focus. It lives in the denominator of the trust equation as a way of highlighting (1) its ubiquitous nature and (2) its ability to quickly offset your good scores on the other variables.
If someone says about you, "I trust that she cares about _________" and fills in the blank with something that relates to them, then your "S" is little. And that's good. ("I trust that she cares about how this project will impact my career." "I trust that she cares about what's best for the team." "I trust that she cares about our reputation." "I trust that she cares about … me.")
[Tweet "Does this make your "S" look big? (Part 1) #getreal #trust"]Alternatively, if the words that complete the sentence relate to you in any way, shape, or form, then you've officially got a Big "S." And that's bad.
For us all to keep our "S" in check, we have to get really smart about it. Level 1 troubleshooting requires a commitment to getting off our "S" in terms of the fundamentals:
| | |
| --- | --- |
| Level 1 Big "S" | Level 1 Little "S" |
| | Ask lots and lots of questions from a place of curiosity to figure out what success really looks like |
| Make a bad first deal/project to "just get the deal/project going already" | |
| Hoard things: time, resources, ideas | Give things away: time, resources, ideas |
| Hedge your bets and minimize your risks | Do the right thing, even if you're incented otherwise |
That last little "S" strategy includes the provocative notion of being willing to refer a client to a competitor if the competitor could do better for the client. Yeah, suddenly things get interesting.
While we all pretty much know what we should be doing to be fundamentally other-focused, actually doing those things consistently is another story.
How big is your "S," generally speaking?
Make It Real
This week, examine your "S" from a Level 1 perspective. Observe your tendencies in a variety of interactions. What do you notice triggers you into Big "S" behaviors?
Learn More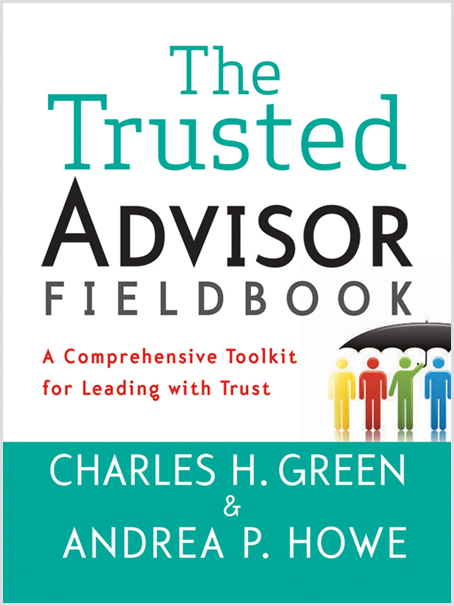 Find out what we can all learn from the used car salesperson, from our friends at Trusted Advisor Associates, or brush up on ways to decrease your "S" quickly in Chapter 21 of The Trusted Advisor Fieldbook.
The following two tabs change content below.
Andrea Howe
As the founder of The Get Real Project, I am the steward of our vision and our service offerings, as well as a workshop leader and keynote speaker. Above all else, I am an entrepreneur on a mission: to kick conventional business wisdom to the curb and transform how people work together as a result. I am also the co-author, with Charles H. Green, of The Trusted Advisor Fieldbook (Wiley, 2012).
Latest posts by Andrea Howe (see all)