This post is part of our Weekly Tips series.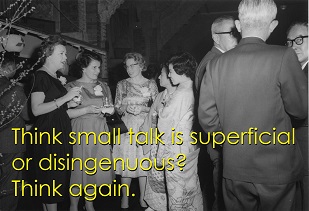 I'm not a big fan of small talk. I don't like doing anything that seems superficial or disingenuous. Plus, I'm an introvert. And every once-in-a-while I still feel like the ridiculously shy kid I once was. So small talk also seems like large effort.
Several years ago Gary Celli, a client, told a story that made me feel very differently about small talk, and it might do the same for you. Charlie and I included Gary's story in The Trusted Advisor Fieldbook. Here's how Gary tells it:
"I was working in California for a multi-national high-tech company. I was a project manager at the time, and the project I was leading was rife with difficulties—nothing atypical, just the usual stuff. We were also trying to position additional work with the customer.
"One day, the CIO asked specifically to meet with me. Until that point I had been dealing with his directors, so he and I hadn't spent any time together beyond a brief interaction at the big project kickoff meeting. You can imagine I was a little on edge about the meeting.
[Tweet "The business value of "small talk" #getreal #relationships"]
"The first thing I noticed when I arrived at his office was what a mess it was. There were papers all over the place. One chair was so stacked with stuff it wasn't usable. I glanced around and noticed a copy of the Scranton Journal on the floor—the magazine for my alma mater, the University of Scranton, a small Jesuit university in Pennsylvania. I looked around for a diploma on the wall, but didn't see anything. So I asked about the magazine.
"It turns out that we were both graduates, now living nearly 3,000 miles away in California. Talking about that really helped break the ice and took the edge off. We spent 30 minutes reminiscing about the school, the campus, the local hang-out bar that all the kids went to. Then we spent about 15 minutes talking about project issues.
"It was a very successful meeting. The bond we had established made it possible for me to glean more information from him and he seemed very open to hearing my perspectives on the project. We got to the heart of the matter in no time. My company also got the follow-on work, and the CIO was a loyal client for years to come."
One way to look at Gary's story is as small talk that led to a lucky outcome. Another way is to see the business value of finding ways to make a personal connection with a client. The latter sits much better with me, and inspires me to pay close attention to all the opportunities that present themselves.
Make It Real
This week, keep your eyes and ears peeled for opportunities to make a personal connection with the people in your professional life. What do you learn in the process—about them and about you?
Learn More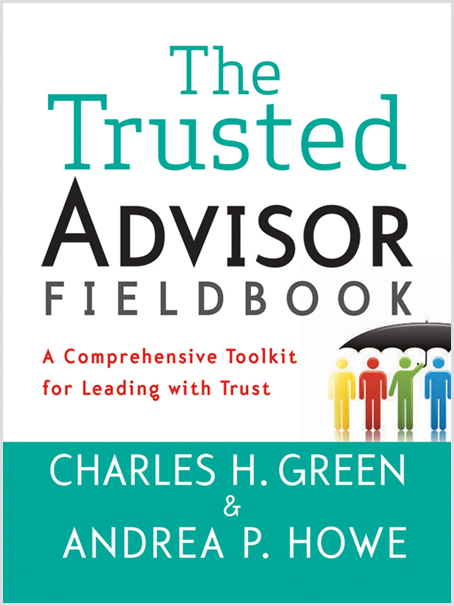 Read more about how to establish trust without saying a thing, from our friends at Trusted Advisor Associates, or brush up on how to start off right in Chapter 20 of The Trusted Advisor Fieldbook.
The following two tabs change content below.
Andrea Howe
As the founder of The Get Real Project, I am the steward of our vision and our service offerings, as well as a workshop leader and keynote speaker. Above all else, I am an entrepreneur on a mission: to kick conventional business wisdom to the curb and transform how people work together as a result. I am also the co-author, with Charles H. Green, of The Trusted Advisor Fieldbook (Wiley, 2012).
Latest posts by Andrea Howe (see all)