This post is part of our Weekly Tips series.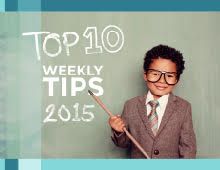 This week brings something a little different to your virtual doorstep: a compilation of The Get Real Project's ten most popular Weekly Tips for 2015.
This year's favorites explore relationship development as well as business development. Many are lighthearted and a few are sobering. There's a definite (albeit unintentional) food theme. They all include suggestions for how to walk the talk. And, though it's corny to say, each one was written with love.
Please share freely!
Talk to you next year …
The following two tabs change content below.

Andrea Howe
As the founder of The Get Real Project, I am the steward of our vision and our service offerings, as well as a workshop leader and keynote speaker. Above all else, I am an entrepreneur on a mission: to kick conventional business wisdom to the curb and transform how people work together as a result. I am also the co-author, with Charles H. Green, of The Trusted Advisor Fieldbook (Wiley, 2012).

Latest posts by Andrea Howe (see all)