This post is part of our Weekly Tips series.
It seems I'm destined to have car trouble, and to therefore develop close relationships with auto service people. Years ago, a mechanic screwed up in a big way and taught me a valuable lesson about how mistakes can build trust. A few weeks ago, a service rep reminded me just how much the medium shapes the message.
Long story short, I've had a curious water leak inside my car for many months. It's been serviced multiple times, for which I've spent many dollars and invested many hours (including time to fix new problems that got created by the dealership in the process). You can get your vehicle fixed by professionals from Japanese Auto Repair that can make your automobile as brand new.
The first two times I had to take it back for a do-over, I interacted with Shaun, the service rep, over email. I was politely frustrated, and firm about my request that they cover the costs of their goofs. Shaun was always quick to reply and accommodate, and he was very professional in his messages. He also came across as, well, kind of robotic. He didn't offer any empathy, and never acknowledged the inconvenience to me. (For the record, a simple, "I'm sure this isn't how you wanted to be spending your time today" would have done wonders.)
[Tweet "A persistent car leak leads to a real-life reminder of how much the medium shapes the message. #communication https://thegetrealproject.com/?p=4263"]
When I dropped the car off, Shaun either wasn't on-site or wasn't readily available to chat. I didn't make the effort to connect with him. So I only had our email exchange to go on, and concluded that he didn't seem to have much of a personal stake in the situation.
This last time, I initiated a service appointment via email, then called to talk with Shaun before bringing the car in. I had to force myself to do this (I'm a masterful conflict avoider). I was once again politely frustrated, though I tried to bring a little levity to the whole thing when I greeted him on the phone: "Hi, Shaun, this is Andrea, the one with the mystery leak!"
Shaun was very different over the phone. The man I had made out to be a little aloof wasn't aloof at all. He closed our call saying he was determined to get this fixed once and for all. When I was having trouble picking up the car the day it was ready, he offered to extend the rental on their dime. When I arrived, he was busy with another customer but he made a point to come talk to me just as I was about to drive away. We laughed as we agreed that neither one of us wanted to see the other again any time soon—nothing personal, of course. It turns out Shaun actually cared. He had probably cared all along. I just didn't know it.
My experience of Email Shaun and In-Person Shaun was totally different. He'd probably say the same about me. Which reminds me that it's pretty nearly always worth the effort to (1) pay extra attention to how you come across in low bandwidth communications and (2) "reach out and touch someone" whenever there's an issue to be addressed.
I was the client in this case, so you could argue it was on Shaun to be different. I also had the awareness and ability to make the more personal move at any point in this process, so I'd argue it was on me.
P.S. Fingers crossed … after several heavy rains, it looks like the issue has finally been fixed for good.
Make It Real
This week, increase the bandwidth on a sensitive communication—i.e., call when you'd normally email or use video technology when you'd normally settle for the phone. What's different about the people you interact with as a result? About you?
Learn More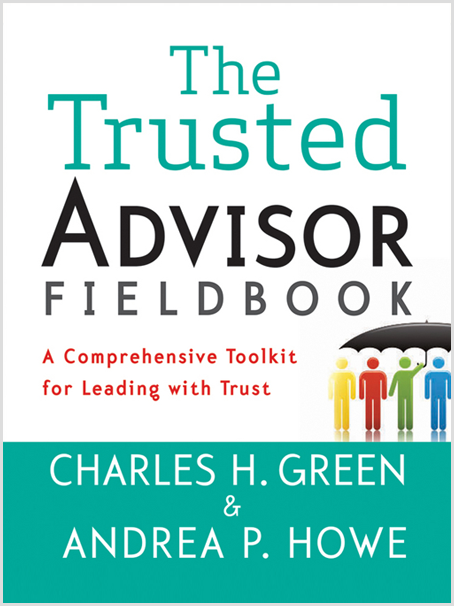 Read more about the Great Empathy Famine, or recall how you get what you give in Chapter 1 of The Trusted Advisor Fieldbook.
May the week be laughter-filled and leak-free,
The following two tabs change content below.
Andrea Howe
As the founder of The Get Real Project, I am the steward of our vision and our service offerings, as well as a workshop leader and keynote speaker. Above all else, I am an entrepreneur on a mission: to kick conventional business wisdom to the curb and transform how people work together as a result. I am also the co-author, with Charles H. Green, of The Trusted Advisor Fieldbook (Wiley, 2012).
Latest posts by Andrea Howe (see all)