This post is part of our Weekly Tips series.
There's one short paragraph in the article that I can't get out of my mind:
"When I was young I thought that the way you made friends was by turning yourself into an interesting person. Eventually, I learned the truth: You don't make people want to spend time with you because they feel good about you. You do it by making them feel good about themselves when they are with you."
Simple. Profound. Yet counter to just about every piece of business wisdom out there on networking, pitching, and presenting.
Think about it: How many times have you attended a networking function with a focus on delivering just the right "elevator speech"? Or prepped for a meeting with your attention on how you will convey your deep expertise with the perfect blend of confidence and humility? Or rehearsed a presentation with your mind trained on how to look, sound, and be fabulous? My own answer: too many to count.
Consider what's possible if instead you put your energy towards leaving others feeling fabulous about themselves.
[Tweet "Actionable tips to #keepingitreal while networking – key takeaway: make THEM feel good. http://goo.gl/dH9DOZ"]
Which raises the question, how exactly do you do this? A few options immediately come to mind:
Get really curious. "Oh, interesting! What do you especially like about <the job/your role/that hobby/that vacation spot>?"
Be appreciative. If they did something you think is courageous or thoughtful or savvy, say so.
Paraphrase. "So what I hear you saying is …" It's such a simple way for people to feel "gotten."
Tune in. Ditch the distractions. Treat the person with whom you are in conversation as though they are the most important person to you in the world. They are. Why? Because in this moment they are the human being you're with—not someone else.
Make it OK to have fun. Enjoy yourself. Laugh. They probably will, too. And they'll remember you for it.
Of course, all of the above requires a healthy dose of authenticity. "Fake it 'til you make it" is really bad business (and life) advice.
On the other hand, helping others feel great about themselves might be the best business (and life) advice I've ever received. Thank you, David.
Make It Real
This week, make a commitment to have three interactions with three different people where your only goal is to genuinely make them feel good about themselves when they are with you. What changes about the way you prepare? What's different about how you engage with them, and them with you?
Learn More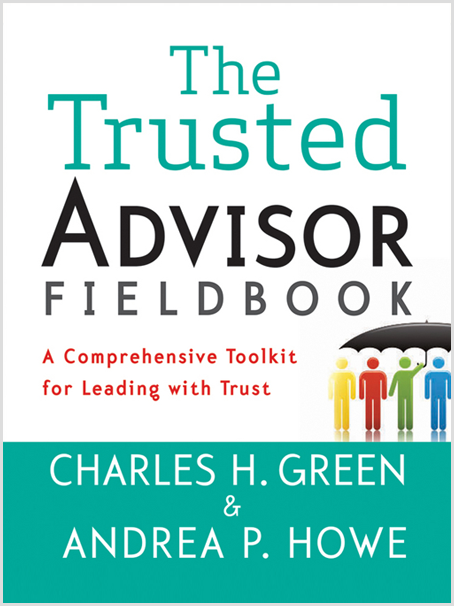 Read more about why the fastest way to trust is laughter, or learn about the four barriers to really, truly paying attention in Chapter 6 of The Trusted Advisor Fieldbook.
The following two tabs change content below.
Andrea Howe
As the founder of The Get Real Project, I am the steward of our vision and our service offerings, as well as a workshop leader and keynote speaker. Above all else, I am an entrepreneur on a mission: to kick conventional business wisdom to the curb and transform how people work together as a result. I am also the co-author, with Charles H. Green, of The Trusted Advisor Fieldbook (Wiley, 2012).
Latest posts by Andrea Howe (see all)