This post is part of our Weekly Tips series.
This week I want to share something about how Firm #3 has really shined, because there's an important lesson for us all in the power of being truthful, even when the truth might hurt.
In the course of our first conversation with a leader from Firm #3 about the possibility of a good mutual fit, he referred to work we'd already invested in with a prior firm — tricky territory for myriad reasons. He described some aspects of it as "bizarre" and others as "weird." He did this pretty early on in our 45-minute conversation.
Now, by just reading my recounting of this as words on a screen, your likely assessment is "courageous" if you're feeling generous; "arrogant" and maybe even "harsh" if you're not.
You know what's really bizarre and weird? Firm #3's leader dramatically increased our trust as a result of his statements.
The key was in how he said what he said.
For one thing, he always used a caveat before he said anything that might come across severely, like, "I'm not quite sure how to say this …" and "At the risk of sounding harsh about prior efforts …" His tone overall was soft, not hard.
In the process of sharing his commentary, Firm #3's leader also proved he'd really studied the baseline we'd said we wanted to depart from. He gave us specifics about how he'd do things differently, not just that he'd do things differently. And he showed us he was a "tell it like it is" kinda guy, with plenty of professionalism and sensitivity to go along with his confidence and expertise. Charlie and I hung up the phone with a very clear sense of who he is, what he thinks, and how he works.
Whether or not he validated things we had been feeling for a long time isn't the point (though, for the record, he did). What matters is that we all finished our first call better off because we knew where we stood.
Firm #3's leader was a great role model for how to offer a point of view on a potentially sensitive topic in a bold and direct manner while gaining trust, not losing it.
Make It Real
Self-reflection time: Notice your conversations this week. How truthful are you … truly? Where (or with whom) are there big gaps between what you're really thinking and what you're saying? Is there a way you might be able to close those gaps, and build more trust in the process?
Learn More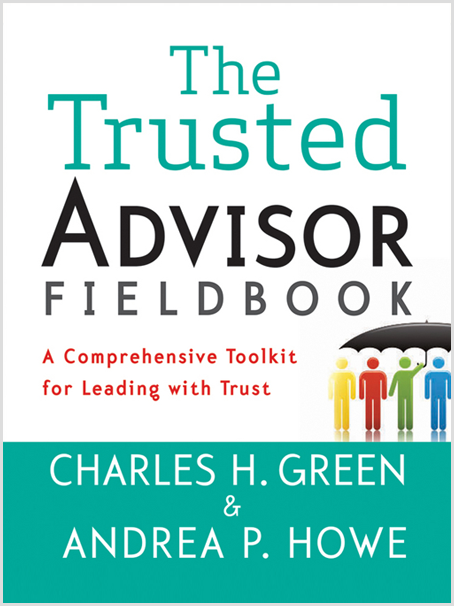 Learn more about a truth-telling tool called Name It and Claim It from our friends at Trusted Advisor Associates, or find a list of caveats you might try in Chapter 9 of The Trusted Advisor Fieldbook.
New topic next week.
The following two tabs change content below.

Andrea Howe
As the founder of The Get Real Project, I am the steward of our vision and our service offerings, as well as a workshop leader and keynote speaker. Above all else, I am an entrepreneur on a mission: to kick conventional business wisdom to the curb and transform how people work together as a result. I am also the co-author, with Charles H. Green, of The Trusted Advisor Fieldbook (Wiley, 2012).

Latest posts by Andrea Howe (see all)