This post is part of our Weekly Tips series.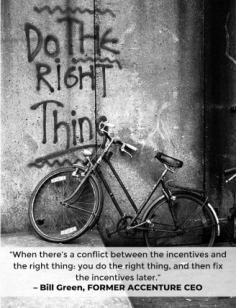 Last week's tip on creating a high-trust culture reminded me of a compelling story about one global CEO's take on how to resolve the disconnect that can exist between the trust principles we all aspire to and the ways we're incented to do business.
We shared this story in The Trusted Advisor Fieldbook. It came about when my co-author, Charlie Green, had the opportunity to watch Bill Green, then-Chairman and CEO of Accenture (and no relation). Bill was addressing a very senior leadership group at the end of a two-day offsite.