This post is part of our Weekly Tips series.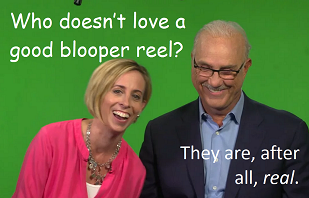 This week got off to a rocky start with the realization that my computer, which had been coughing and sputtering for several days, was officially on life support. So I scrambled to deal with this major productivity hit while of course muttering multiple times to myself, "Will it matter a year from now?"
My consistent, "No, it won't matter" helped with my perspective but not my mood. It took me until the end of the day to realize that what I really needed was a little dose of humor.
Here are some favorite humorous videos with work themes, guaranteed to make me chuckle:
Sketch comedians Tripp and Tyler's conference call video spoof. I dare you not to laugh out loud as your everyday conference call experiences come to life and you wonder, as the main actor finally concludes … why didn't we just send an email?
Writer/director/actor Jason Headley's "It's Not About the Nail." Good luck keeping in the guffaws as the main character struggles to find and convey empathy when all he desperately wants to do is solve his partner's problem. (Be honest: I bet you also see yourself in him.)
The blooper reel that shows me and Charlie Green flubbing lines and more during the recording of our video series. Who doesn't love a good blooper reel? They are, after all, real.
I'm sharing these because it occurs to me that all who read these tips regularly have at least one thing in common, which is dealing with the ongoing stress of being in a service role. I bet you too could benefit from a reminder to add humor to your coping kit.
Consider this your official reminder.
Make It Real
This week, take time out to laugh out loud. Better yet, invite your teammates to laugh out loud with you.

The following two tabs change content below.

Andrea Howe
As the founder of The Get Real Project, I am the steward of our vision and our service offerings, as well as a workshop leader and keynote speaker. Above all else, I am an entrepreneur on a mission: to kick conventional business wisdom to the curb and transform how people work together as a result. I am also the co-author, with Charles H. Green, of The Trusted Advisor Fieldbook (Wiley, 2012).

Latest posts by Andrea Howe (see all)