This post is part of our Weekly Tips series.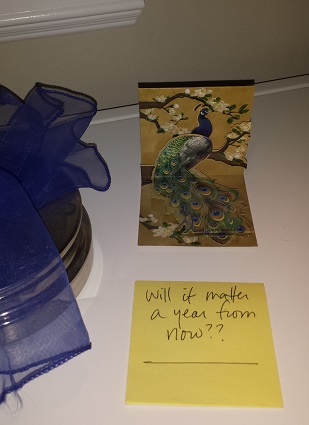 My 90-year-old mom broke her wrist the other day and it has gotten me thinking about the importance of perspective as both a life skill and a relationship skill. (She's fine, by the way, just very inconvenienced at the moment.)

When it became clear that what we thought was a mild bruise was something much more serious, I'm hesitant to admit to you that my first reaction wasn't altruistic by any stretch of the imagination; it was self-oriented and laced with mild panic. "How will I manage all my client commitments if I have to take her to the doctor?" "So much for the time I had set aside to wrangle my email inbox. Will I ever get caught up on email? Ever?" "Ugh! Yet one more thing in the way of getting our life unpacked from our recent move!"
Not too long after, perspective arrived on the scene and things started to shift into their proper places. I remembered that my work, while important, isn't that important. Calls can be postponed. Things can wait. While clients might be inconvenienced, no one will die. I also remembered that our recent move was, among other things, for the purpose of living just seven minutes from my mom so I could be a part of her life at important moments like this one.
All this got me thinking that I'd be a much better business professional (not to mention daughter) if I could figure out how to have more perspective more often. I'd be more grounded, more present, more focused. These are important traits for trust-building.
Then I remembered a technique I once learned, which is to ask yourself, "Will it matter a year from now?"
Will it matter a year from now that I took time off to help my mom? To me and my family, absolutely. Will it matter a year from now that this tip got delivered a little late and emails lingered a little longer in the inbox? Right now, the answer seems like a clear and obvious "no."
To help me build perspective as a skill, I've just written, "Will it matter a year from now?" on a Post-it note that's in a visible place on my desk.
Maybe a Post-it will be helpful for you, too.
The following two tabs change content below.

Andrea Howe
As the founder of The Get Real Project, I am the steward of our vision and our service offerings, as well as a workshop leader and keynote speaker. Above all else, I am an entrepreneur on a mission: to kick conventional business wisdom to the curb and transform how people work together as a result. I am also the co-author, with Charles H. Green, of The Trusted Advisor Fieldbook (Wiley, 2012).

Latest posts by Andrea Howe (see all)