This post is part of our Weekly Tips series.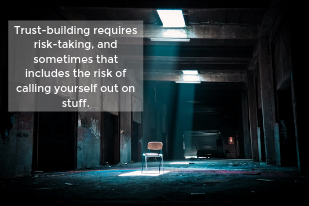 Something recently made me think about a check I bounced about a gazillion years ago. (Some of you might actually remember the days of writing checks.) Reflecting on the situation and how I handled it then, I see two important trust-building lessons worth featuring today.
The background: It was a long time ago; I don't think I was 20 yet. It was a check I had written to my therapist. (Yes, I started researching relationships at a young age.) As soon as I realized what had happened/was about to happen, I called the office manager to own up to it. I confessed that I had simply screwed up in terms of managing my balance.
What strikes me now about the situation is how she reacted to me:
"Thank you so much for calling. I don't think anyone's ever been so forthright about something like this before."

My motives: I wish I could tell you that I called so promptly, and spoke so candidly, because I was wise beyond my years in the ways of trust. Truth be told, I was just as caught up in the very human shame and discomfort of it. It simply seemed far less embarrassing to go on the offense and initiate a conversation about it.
The lessons: Now that I know more about trust-building, I can see important lessons in this little parable for anyone endeavoring to build better relationships, starting with an imperative to steer away from two tendencies:
Underestimating the value of truth-telling. Forthrightness and willingness to face facts are quickly perceived by others as character virtues. This nearly always immediately outweighs the uncomfortable content at hand.
Over-estimating the probability (and cost) of disapproval. Generally speaking, the truth is liberating for everyone involved. The recipients of uncomfortable news—like my therapist's office manager—usually see it simply as something to be dealt with and then move on. We're the ones who get hung up on what we perceive to be their emotional baggage.
Trust-building requires risk-taking, and sometimes that includes the risk of calling yourself out on stuff. No matter your bank account balance.
Make It Real
This week, take stock of recent times that you've hesitated to call attention to your own goofs or liabilities. Imagine a do-over: what would it look or sound like?
Learn More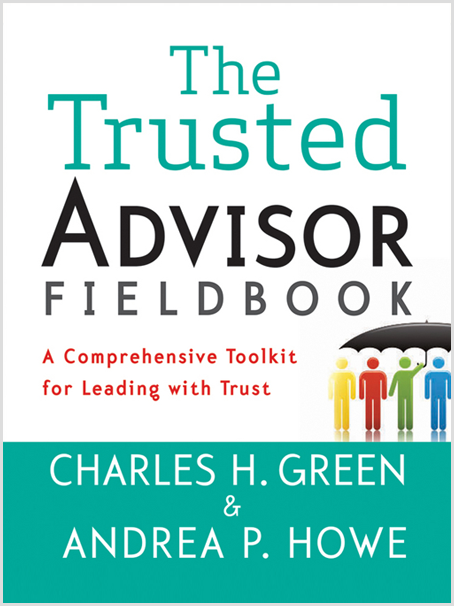 Read about five common ways we lie to clients (the first article Charlie Green and I ever co-authored), or brush up on how caveats can help you say the tough stuff in Chapter 9 of The Trusted Advisor Fieldbook.
The following two tabs change content below.

Andrea Howe
As the founder of The Get Real Project, I am the steward of our vision and our service offerings, as well as a workshop leader and keynote speaker. Above all else, I am an entrepreneur on a mission: to kick conventional business wisdom to the curb and transform how people work together as a result. I am also the co-author, with Charles H. Green, of The Trusted Advisor Fieldbook (Wiley, 2012).

Latest posts by Andrea Howe (see all)