This post is part of our Weekly Tips series.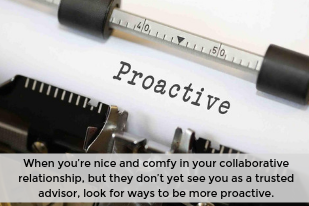 A few tips ago I wrote about why it's critical, as a services professional, to see your own value as more than just a trusted problem-solver. I shared the four levels of relationship as a framework to help. Recently, I've been revisiting a variation of that model that a colleague and I created specifically for anyone in a shared services (or internal consulting) role. It provides a way to re-think your value, and find proactive ways to consistently be seen as more than just an order taker.
The role of internal consultant is particularly challenging. You have to live inside the organization that is your client, which means your interactions have lasting impact (for better or worse). You may be perceived as lacking independence/perspective (and in fact, you might have biases that make objectivity challenging). You've probably at least once experienced the phenomenon where you've said the exact same thing as an outside consultant, only the external is the one who gets heard. (Dammit.)
All of this makes it especially important to mind your mindset. Because how they see your value starts with how you see your value.
Consider three different ways to engage with your stakeholders:
Custodian. To be in custodian mode is to be a guardian or caretaker. You're an expert, and sometimes a pair of hands. You spend a lot of time responding/reacting to requests, issues, and opportunities. You provide helpful information. None of this is bad or wrong, it's just limited when it's the only way they see you.

By the way, if you've ever uttered the plea, "I wish they'd treat me/us as more than just an order taker," you might be operating in custodian mode a lot. Bad news insight: The solution to break free of that starts with you, not with them.
Collaborator. A collaborator is one who actively looks for ways to approach the consulting relationship as a 50/50 proposition, with equal parts give and take. You see yourself as a trusted problem-solver, and your clients likely see you that way too. Your conversations focus on what's needed for all parties to succeed. You provide solutions, and sometimes ideas, and insights as well—not just information.
Trusted advisor. A trusted advisor relationship exists in a very different realm. In addition to being a valued resource on specific topics, you're a safe haven for a wide range of tough issues. You're a collaborator, for sure, but you also lead by being proactive with expertise, ideas, and vision. You see patterns in requests and do something about it. You're on top of trends in your industry/subject matter. And you always attend to the personal rapport in your relationships, because you know that's how you cultivate the "safe haven" part.
Big Q: How do you shift in the direction of trusted advisor, even when they don't see you that way?
Short A: With small steps.
For example, when a client comes to you with an "order," be sure to understand business drivers and root causes. When you're nice and comfy in your collaborative relationship, look for ways to be more proactive. And in all cases, bring empathy to your interactions.
Because ultimately the power lies with you to develop opportunities to interact in more and more elevated ways.
Make It Real
This week, schedule some time to reflect on trends and patterns. Take a strategic view. What do you see? What might be useful to share with your clients?
Learn More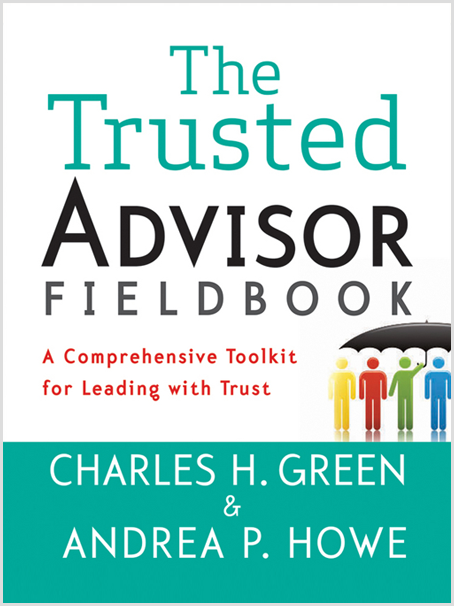 Read about specific trust challenges for IT, HR, Legal, and Finance, from our friends at Trusted Advisor Associates, or brush up on five ways internal consultants can enhance trust in Chapter 30 of The Trusted Advisor Fieldbook.
The following two tabs change content below.

Andrea Howe
As the founder of The Get Real Project, I am the steward of our vision and our service offerings, as well as a workshop leader and keynote speaker. Above all else, I am an entrepreneur on a mission: to kick conventional business wisdom to the curb and transform how people work together as a result. I am also the co-author, with Charles H. Green, of The Trusted Advisor Fieldbook (Wiley, 2012).

Latest posts by Andrea Howe (see all)