This post is part of our Weekly Tips series.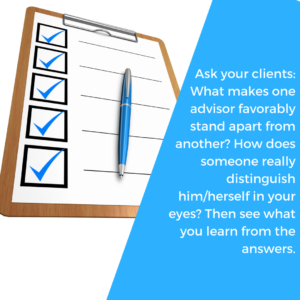 You may be totally bought into trust-building as the ultimate differentiator for people in professional services but wishing for a way to convince others to see it that way. Or you may find yourself wishing for a refresher on why trust is so important to your work. Either way, this week's tip will help.
Consider the following scenario, a variation of which was offered in The Trusted Advisor.

Imagine you've decided to hire a financial advisor to help you manage your investments. You have a list of three to choose from:
Candidate #1 was referred by a coworker;
Candidate #2 was referred by a family member;
Candidate #3 you found online.
Thinking through it, you realize that your situation more closely matches the coworker than the family member, so you remove Candidate #2 from the running. You keep Candidate #3 on the list even though there's no personal connection because her LinkedIn profile really stands out with an impressive list of qualifications, lots of relevant published articles, and client testimonials that seem genuine and warm.
Further consideration reveals that Candidate #3 has a slight edge in terms of number of years of experience, but Candidate #1 has a slight edge in terms of the type of clientele she serves—most of her clients are in roles exactly like yours. That said, they're essentially equal in terms of their qualifications.
Your next step is to meet with each one.
That's when Candidate #3 emerges as distinctly different. Candidate #1 doesn't do anything particularly wrong. She asks some thoughtful questions about your situation, and spends time telling you about her certifications, clientele, and process for working together. Candidate #3, on the other hand, develops immediate rapport with both you and your spouse. She offers her specific point of view on the four biggest challenges that couples in your age range typically face when it comes to money matters, and listens carefully to how you see your own challenges vis-à-vis her list. Maybe most importantly, she makes you feel at ease talking about these challenges; the uncomfortable topic of money seems much more comfortable around her.
Which would you choose?
Most people choose Candidate #3: the advisor who's more comfortable, and who seems to care the most, as long as he or she falls within an acceptable range of expertise. And most people will attribute that to "trust."
The financial advisor selection process is not unlike that of a corporate buyer who has to choose a law firm, or software vendor, or … you. Trust plays a key role in cutting through what are otherwise complex issues.
The embedded "bad news insight," as a mentor of mine calls it, is that your qualifications/credentials don't distinguish you nearly as much as you think. It's bad news because things would be a lot simpler if we only had to hone our subject matter expertise to stand apart. Instead, we have to focus on the squishier and more ambiguous phenomenon of relationship-building. And relationships are powered by trust.
Quod erat demonstradum.
Make It Real
This week, ask your clients this question:
"If you had two advisors/consultants, side by side, who were equally dependable (doing as promised, getting work done on time and within budget, etc.) and equally knowledgeable (in their subject matter, industry expertise, etc.), what would make one favorably stand apart from the other? In other words, how does someone really distinguish him/herself in your eyes?"

Then see what you learn from the answer.
Learn More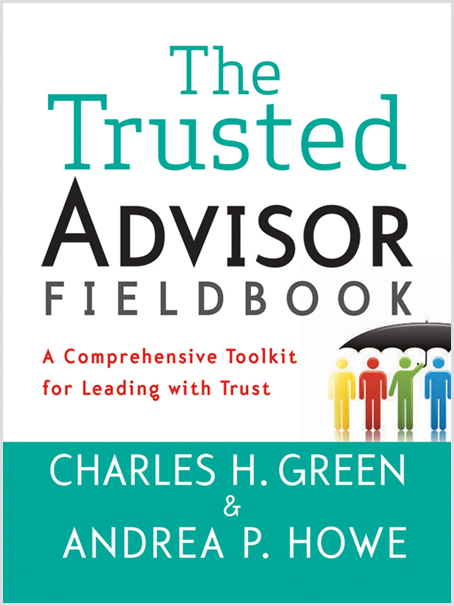 Find and share your favorites of all our Weekly Tips (214 so far), or brush up on ways to make the case for trust in Chapter 28 of The Trusted Advisor Fieldbook.
The following two tabs change content below.

Andrea Howe
As the founder of The Get Real Project, I am the steward of our vision and our service offerings, as well as a workshop leader and keynote speaker. Above all else, I am an entrepreneur on a mission: to kick conventional business wisdom to the curb and transform how people work together as a result. I am also the co-author, with Charles H. Green, of The Trusted Advisor Fieldbook (Wiley, 2012).

Latest posts by Andrea Howe (see all)