This post is part of our Weekly Tips series.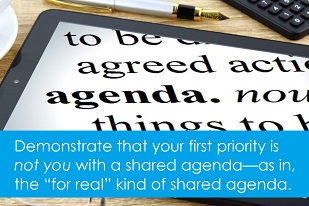 One of the things I love most about leading workshops is how much I learn from participants. A few years ago, someone offered one of the best and simplest trust-building tips out there. It occurred to me the other day, when I was searching for tip topics, that I haven't yet mentioned it to you.
Keeping your self-orientation low can be challenging. It's as much an inside job as anything—knowing yourself and managing yourself well so that your focus is where it belongs, which is on the person or people you are serving. This takes commitment, effort, and practice.
There are also some very pragmatic ways that help you immediately demonstrate that your first priority is them and not you. One of those is the shared agenda—as in, the "for real" kind.
Here's what a shared agenda (for real) looks like:
_________________
_________________
Topic A
Topic B
Topic C
In other words, you're ready to discuss the topics you've prepped for, and perhaps even agreed to in advance (A, B, C). More importantly, you're willing to subvert all that for whatever is most important to them in the moment—this is what fills in the blanks. Perhaps something has arisen unexpectedly. Or maybe nothing has changed, in which case the gesture alone speaks volumes.
[Tweet "A simple and easy #trust-building practice for meetings that packs a punch: #getreal #improvise"]
Be clear that this is not the same as a totally blank slate and, "So what do you want to talk about?" as a meeting opening, which would likely make you look unprepared and cavalier.
Here's the subtext of this shared agenda (for real):
'I'm prepared.'
'What's most important to you in this moment is what's most important to me. I'm willing to put my topics aside in favor of your topics.'
'I'm comfortable enough with who I am and the value I provide (which I know goes far beyond my subject matter expertise) to be willing to talk about anything and to improvise with you.'
See what I mean about "packs a punch?"
Make It Real
This week, practice using the shared agenda (for real) technique. What results do you get? What do you learn?
Learn More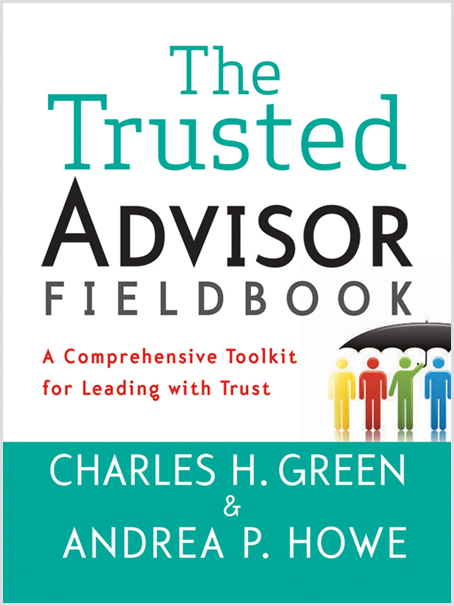 Watch Charlie Green's Trust Tip #3 on how to "Get off your 'S'," or brush up on how to get to know yourself better in Chapter 10 of The Trusted Advisor Fieldbook.
The following two tabs change content below.
Andrea Howe
As the founder of The Get Real Project, I am the steward of our vision and our service offerings, as well as a workshop leader and keynote speaker. Above all else, I am an entrepreneur on a mission: to kick conventional business wisdom to the curb and transform how people work together as a result. I am also the co-author, with Charles H. Green, of The Trusted Advisor Fieldbook (Wiley, 2012).
Latest posts by Andrea Howe (see all)