This post is part of our Weekly Tips series.
One of the best lessons I've learned from the improv comedy workshops I've taken is a new and different way of getting through a "deer in headlights" moment. (I don't know about you, but I experience these moments on a regular basis, with varying degrees of headlight brightness.)
The lesson, in short, is to be willing to put my thoughts on loudspeaker.
Take this example: I'm speaking to an audience of 900 (or any audience, for that matter, it just seems that I feel more pressure to impress them the bigger they get) and have forgotten what I'm going to say next. My years of consulting "training" has me thinking, "Don't let them see you sweat; just keep talking and you'll find your place again." My improv experience has me saying out loud, "Well, shoot, now I've completely forgotten what I was going to say next."
Other examples:
When a client asks a question I'm not prepared for: "Oh how I wish I had prepared for that question."
When a client says something and I have no idea how to respond: "I have absolutely no idea how to respond to that." (Accompanied by a self-deprecating chuckle when it's genuine and appropriate.)
The problem with the consulting thinking for any of these situations is that I stay frozen in the headlights, distracted by the panic—mild or extreme—as I struggle to find my way. Meanwhile I'm partially present at best.
The beauty in the improv approach is two-fold:
I almost immediately get unstuck. It's as though someone graciously cuts off the headlights.
Others almost always laugh, or at least relax a little. I become someone they can relate to, rather than someone who's trying to impress them.
To be sure, I don't always rise to the occasion. There are times when, in hindsight, I realize I should have simply said what I was thinking. Regardless, I continue to work the muscle because I know I get better at improvising by practicing improvisation and because when I do muster a different kind of response, I'm invariably reminded of the power of being real.
Make It Real
This week, do what we all love to hate: role play. Get together with two colleagues and rehearse a conversation. Have one of you be the client, one the listener, and one the observer. Alternate roles. Practice navigating the twists and turns of the discussion. When you're not sure what to say or ask, say just that. What's it like—for you and for them?
Learn More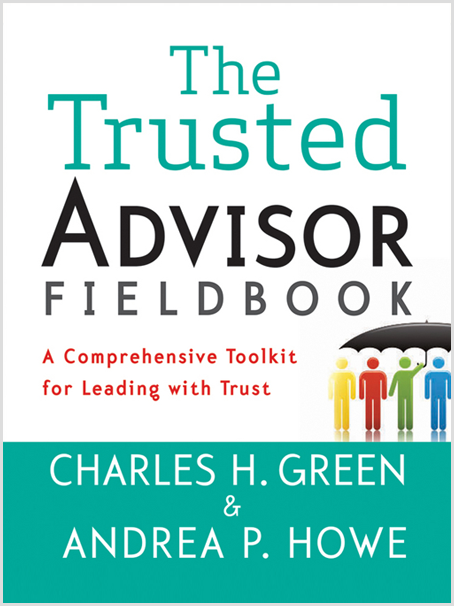 Read more about improv as a change management tool, or find out how to think out loud with your thinking brain in Chapter 8 of The Trusted Advisor Fieldbook.
Until next week.
P.S. We've published 70 tips since June 2014. You can review the archive any time.
The following two tabs change content below.

Andrea Howe
As the founder of The Get Real Project, I am the steward of our vision and our service offerings, as well as a workshop leader and keynote speaker. Above all else, I am an entrepreneur on a mission: to kick conventional business wisdom to the curb and transform how people work together as a result. I am also the co-author, with Charles H. Green, of The Trusted Advisor Fieldbook (Wiley, 2012).

Latest posts by Andrea Howe (see all)