This post is part of our Weekly Tips series.
Have you ever been annoyed by someone, only to have them teach you a really valuable lesson?
That happened today.
I was traveling home from a business trip by train. I opted for Business Class rather than the Quiet Car, which means fewer people, more leg room, and a much greater risk that my car-mates would be yakking on their phones. The woman behind me didn't disappoint.
She was talking with her mother for what seemed like an eternity, discussing the details of an upcoming family trip—that is, when she wasn't asking, "Can you hear me now?" because of the intermittent cell signal that I know so well along that route. Her voice had a slight edge to it; she seemed impatient and a little frustrated.
Then the conversation shifted, along with her tone. I gathered Mom was expressing remorse about having waited too long to acknowledge someone in the family. To which my new friend said something really poignant:
"Mom, it's never too late to do the right thing."
BAM. Wisdom delivered on the Amtrak Northeast Regional.
My fellow passenger went on to give her mother advice on ways to bridge the chasm that silence had created with the other family member: "Mom, just tell him you're so sorry his note got buried in a pile, and you didn't want to wait another minute to let him know you're proud of him."
The conversation made me think of how often we busy business people let too much time go by without being in touch with a client, and then we hesitate, just like Mom. Or we know we haven't handled something well, yet we don't go back and clean it up because it's awkward. Or we make a mistake and are too proud to apologize in the moment … then never do. And of course, the more time passes, the harder it gets.
Overcoming these three relationship barriers—hesitation, awkwardness and inertia—creates an opportunity to catapult trust into a whole new realm. It speaks volumes about our commitment to the relationship.
Thank you, loud stranger, for the important reminder.
Make It Real
This week, survey your relationships for an opportunity to do the right thing. Then do it.
Learn More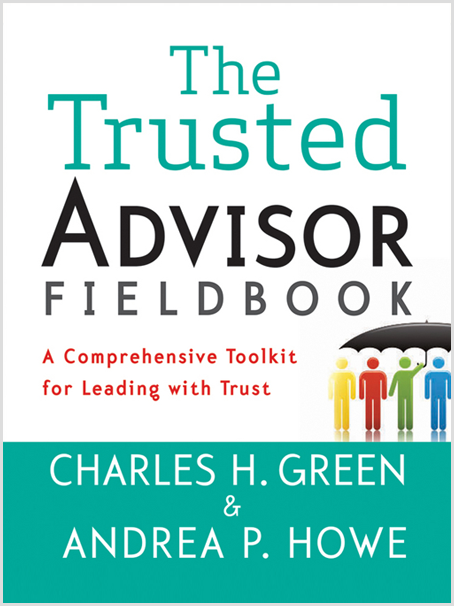 Learn more about apologies, forgiving, and forgiveness from our friends at Trusted Advisor Associates, or refresh on caveats and how to use them in Chapter 9 of The Trusted Advisor Fieldbook.
The following two tabs change content below.

Andrea Howe
As the founder of The Get Real Project, I am the steward of our vision and our service offerings, as well as a workshop leader and keynote speaker. Above all else, I am an entrepreneur on a mission: to kick conventional business wisdom to the curb and transform how people work together as a result. I am also the co-author, with Charles H. Green, of The Trusted Advisor Fieldbook (Wiley, 2012).

Latest posts by Andrea Howe (see all)