This post is part of our Weekly Tips series.
Are you game to try something with me?
Close your eyes and bring to mind your own trusted advisor—a person who is your safe haven for tough issues. Think of someone you can talk to about a wide range of topics, including sensitive ones both professional and personal.
(Are your eyes really closed? Open them again when you can vividly see a particular person in your minds-eye.)
Now jot down the first words that come to mind to describe this person. What leads you to give him or her this very special designation?
(Keep going until you have six or seven descriptive words or phrases.)
If you're anything like the many hundreds of people we've taken through the exercise above, your list probably reflects a special amalgam of characteristics. Your list might include:
Honesty: he'll tell me what I need to hear even if it will be hard for me to hear.
Good listener: she pays attention to what I'm saying (and what I'm not saying).
Caring: he has my best interests at heart.
Objectivity: I can be candid without fear of judgment.
Knowledgeable: when she gives specific advice on a topic, she knows her stuff.
Dependable: I can count on him to do what he says he's going to do.
And therein lies a critical lesson about what it takes to be a trusted advisor: this special amalgam of traits is both logical and emotional in nature, with a clear emphasis on the soft stuff.
[Tweet "The special amalgam of traits it takes to be a #TrustedAdvisor #SoftSkills. #keepingitreal"]
You'll see that the first four items on the list above speak to the more emotional/psychological aspects of the Trust Equation— the traits that usually come to mind first, and that usually get short-shrift when you endeavor to be a trusted advisor.
Today's PSA, in a nutshell: It's the soft stuff that sets you apart.
Make It Real
This week, do this exercise with your team or a collection of colleagues. Give people a few minutes to bring their trusted advisor to mind and make their own lists, then create a group list. Discuss what you see—what came to mind first? What's emphasized? What's not on the list that's surprising? How well do you embody all the traits with your stakeholders?
Learn More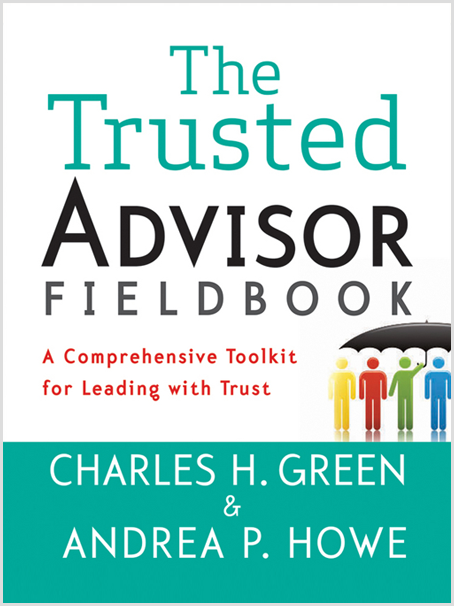 Get greater insight into all four variables of the trust equation, or find out how to build trust fast in Chapter 21 of The Trusted Advisor Fieldbook.
Eyes wide open now.
The following two tabs change content below.
Andrea Howe
As the founder of The Get Real Project, I am the steward of our vision and our service offerings, as well as a workshop leader and keynote speaker. Above all else, I am an entrepreneur on a mission: to kick conventional business wisdom to the curb and transform how people work together as a result. I am also the co-author, with Charles H. Green, of The Trusted Advisor Fieldbook (Wiley, 2012).
Latest posts by Andrea Howe (see all)