This post is part of our Weekly Tips series.
Check out the letter I got last year after my first online purchase from a custom framing company called American Frame: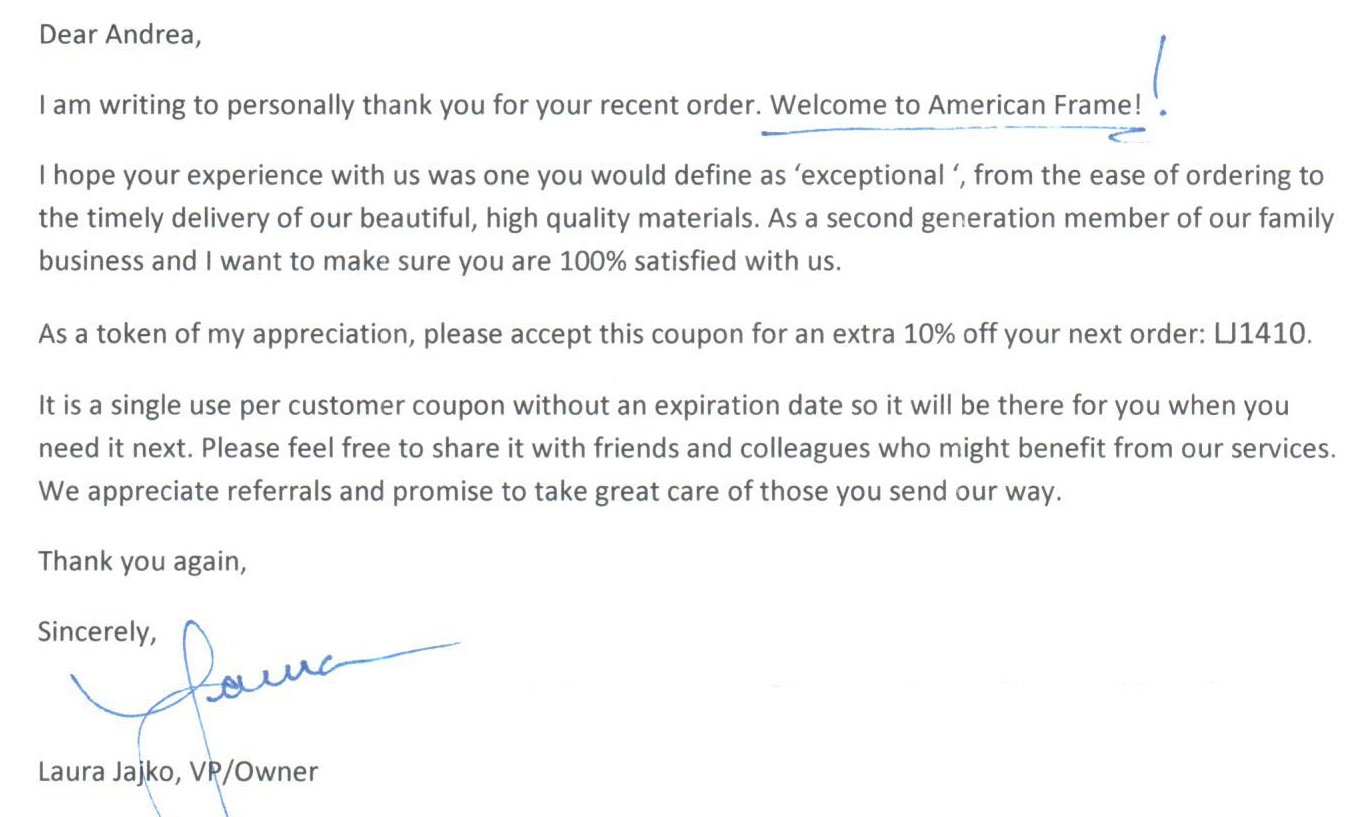 Here are three things I really like about this letter:
1 – It's personal. Three touches of a blue ink pen—an underline, exclamation point, and signed first name—are all it takes to make a form letter feel friendly. My estimate for Laura's effort: three seconds.
2 – It's generous. I get a coupon with no expiration date. Not only that, I can both use it and share it with as many people as I'd like. (The code is LJ1410 in case you can't see the graphic. No kick-backs for me, other than the natural high of gift-giving.)
3 – It's ambitious. Laura, a second generation of a family business, wants my experience to be "exceptional" through and through. She's confident in their "beautiful, high quality materials" and promises to take great care, not just good care, of anyone I send their way. I like that.
Most of us are selling professional services, not framed artwork. Still. There's gotta be a way to translate this approach into our world.
Make It Real
This week, sit down with your team and brainstorm how you might apply the tenets of the American Frame approach—personal, generous, ambitious—to reach out and touch your clients.
Bonus offer: Post your idea as a blog comment. If I get at least 10 suggestions I'll give a custom-framed Get Real manifesto poster to the person/team with the best one.
Learn More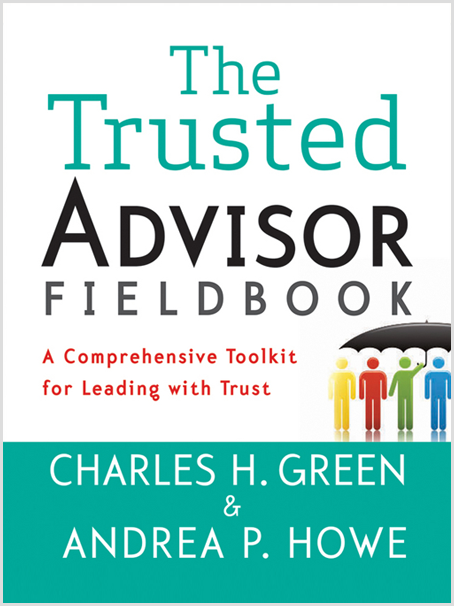 Find out why a small kindness can have big impact or read more about client focus in action in Chapter 11 of The Trusted Advisor Fieldbook.
If I could sign this with a blue ink pen, I would.
The following two tabs change content below.

Andrea Howe
As the founder of The Get Real Project, I am the steward of our vision and our service offerings, as well as a workshop leader and keynote speaker. Above all else, I am an entrepreneur on a mission: to kick conventional business wisdom to the curb and transform how people work together as a result. I am also the co-author, with Charles H. Green, of The Trusted Advisor Fieldbook (Wiley, 2012).

Latest posts by Andrea Howe (see all)