A competency model won't answer the mail when it comes to building trustworthiness—in fact, 
there's risk in attempting to reduce trust to a series of behavioral definitions
. At the same time, there
is
 value in culling down the essential skills of a Trusted Advisor to a practical number.
I narrow it down to the following five: Listen, Improvise, Risk, Partner, and Know Yourself.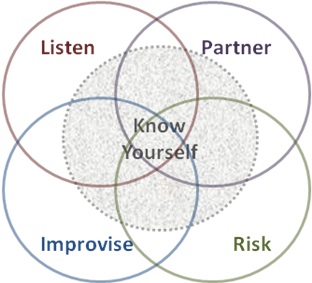 Common Denominators
The five essential skills share important characteristics:
They appear elementary—easily dismissed as too basic to merit our attention. ("I've been in sales for 20 years; I know how to listen by now!") They're deceptive that way.
They're capabilities you can practice, and should practice over and over again. The five essential skills are to a Trusted Advisor what scales are to a maestro.
They're inextricably linked. Improvisation requires risk, partnering requires listening, and all of them require knowing yourself well to be effective.
Essential Skills, Defined
There's a lot to be said for simplicity, hence–five and only five. (Interestingly, Steve Arneson, formerly head of leadership development at Capital One, AOL, Time Warner Cable, and a division of PepsiCo, agrees in principle; he advocates for eight—not 67—essential competencies for leadership.)
Here are the five essential skills of a Trusted Advisor:
That's my take. What's yours?
The following two tabs change content below.

As the founder of The Get Real Project, I am the steward of our vision and our service offerings, as well as a workshop leader and keynote speaker. Above all else, I am an entrepreneur on a mission: to kick conventional business wisdom to the curb and transform how people work together as a result. I am also the co-author, with Charles H. Green, of The Trusted Advisor Fieldbook (Wiley, 2012).