You improvise every single day.
Sure, "luck favors the prepared mind." Yet no matter how much you prepare, true leadership is demonstrated in the moment, on the spot, when the unexpected occurs.
In fact, the true test of your ability to build extraordinary client relationships is when you're working off script.
Transform moments of truth into moments of opportunity
The Get Real project's Improv-ing Relationships program teaches you how to apply the best practices of improvisational comedy to day-to-day client situations.
"We've had performing arts organizations work with our company before, but they only juxtaposed the funny. You integrated the funny into our practical work."—Jennifer Hentz, Learning and Development, Booz | Allen | Hamilton
WHO SHOULD PARTICIPATE
This program is ideally suited for:
Client relationship managers
Front-line consultants
Shared services leaders
Salespeople and business developers
Involve your entire organization or strategically targeted groups.
HOW THE PROGRAM WORKS
All our Improv-ing Relationships programs are scalable. We'll work with you to advance your business goals while making everyone feel completely comfortable doing something outside their comfort zone.
In an hour:

Jump-start your team
Host a different kind of keynote or plenary event
Underscore a key message

In a day:

Immerse a select group in the techniques of improv
Change your trajectory
Create a package of best practices to apply on-the-job

In a month:

Transform a process/product/service/deliverable
Take an in-tact team to the next level of performance
WHAT YOU'LL GET
Exact outcomes depend on the scale and duration of a program. Here's a sample list of program objectives:
Arm yourself with a style of thinking, listening, communicating, and working that is creative, spontaneous, and results-oriented
See new solutions to old problems
Get comfortable thinking on your feet and dealing with the unexpected
Meet tough client questions with confidence
KEY TAKEAWAYS FROM PAST PARTICIPANTS
Here's a sampling of what our clients have said they've learned:
Client Relationships


"Improvising means tuning in to others in a way we don't normally"
"We can draw others out when we're really paying attention"
"There's something to be said for bringing a little levity into our relationships"

Collaboration


"There's immediate value in bringing a 'yes, and …' approach to ideas"
"When we get out of our own box we can solve problems in unexpected ways"
"When we free ourselves and others to contribute—to just give—remarkable things happen"

Teamwork


"Not being driven by organizational hierarchy means ideas can come from anywhere, anytime"
"Vulnerability puts others at ease"
"Emotions are contagious"

Leadership and Executive Presence


"When the inner editor is turned off we can bring new levels of confidence and authenticity to our relationships"
"It's important to trust your gut and trust others"
WHAT ELSE TO EXPECT
There are a few key differentiators to our approach:
We're businesspeople first, and improv-ers second. We combine professional comedy talent with training and consulting expertise to create learning programs that are truly one-of-a-kind.
Our improv exercises tie directly to your work. The goal is always practical application; the fun you have in the process is a nice by-product.
Our Improv-ing Relationships workshops depend wholly on 100% participation from beginning to end. Participants become their own source of learning and entertainment; they are not "performed for."
The improv comedy workshop we held was extraordinary because it was fun, creative, and relevant. From the very beginning, the team worked with us to relate the event to our strategic plan, to get everyone involved, and to create an event that clearly broke through structural barriers"—George L. Child, President, Adventist Senior Living Services
See our clients perform improv with us. Or read about one leadership team's one-of-a-kind experience.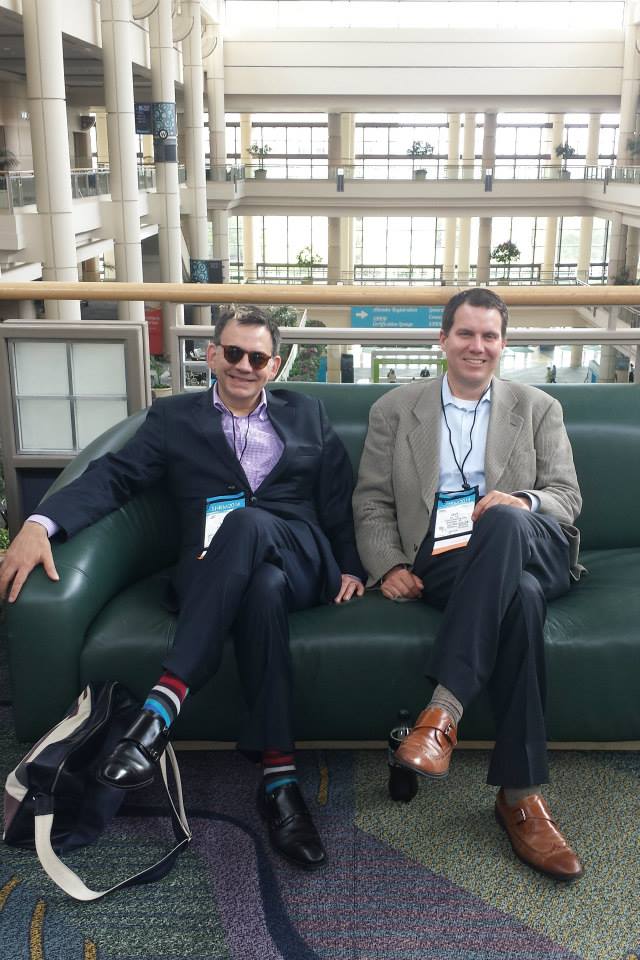 The Get Real Project Improv Gurus Shawn Westfall and Cary Paul at the SHRM Annual Conference & Exposition