"Insightful, practical and entertaining" — Subscriber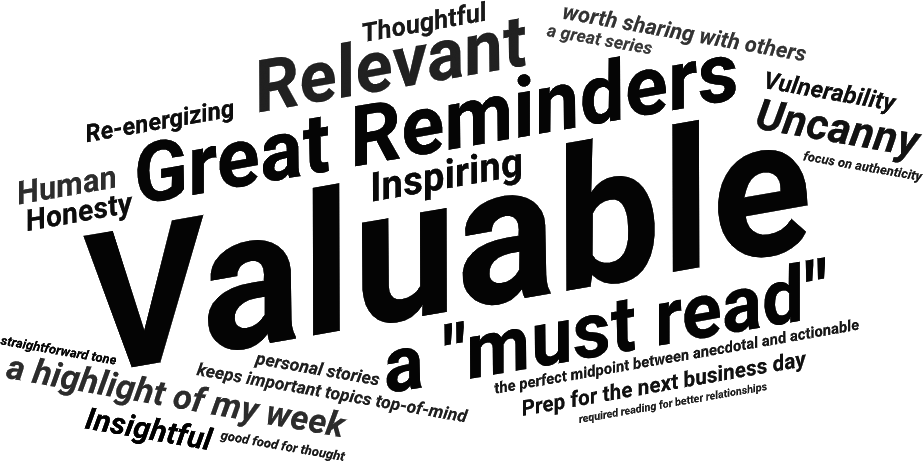 You probably remember the last time you read a fabulous book or attended a really great presentation or workshop – it was interesting, informative, inspiring.
You were convinced of the value of putting new practices in place, and committed to doing things differently. And maybe you did. For a little while.
Then it was pretty much back to business as usual.
You're not alone. Research shows that over 80% of what we learn in a classroom setting, for example, typically gets lost within a few days, even when it's a high-impact program. That's in part because forgetting is a necessary feature of memory.[1]
Bottom line impact: Mastery remains elusive, especially when we're working on the "soft skills" of client relationships.
Getting real just got easier
The Get Real Project begins to address this problem with our Weekly-ish Tips: short, pithy, interesting emails delivered to your (virtual) doorstep. Weekly-ish Tips offer practical insights and advice to keep the conservation alive about what it takes to get real, and get real results, in your client relationships. If you're an alum, they also give you opportunities to retrieve information so those "aha" moments remain accessible on-the-job instead of being purged from short-term memory.
"The perfect amount of content" — Subscriber
It starts with a few paragraphs on an important topic — like how to deliver bad news in a way that builds trust or what to do if you hate to sell.
It includes a bonus section called "Make it Real," which gives you a specific action to take if you want to develop your skill set further.
And sometimes there's another bonus: links to further reading, like short blogs and short chapters from The Trusted Advisor Fieldbook.
"One of the few non-client emails I open and read every week" — Jill Ririe, Leadership and Organization Development consultant
[1] "Use it or Lose it: The Neuroscience of Learning, Retention, and Transfer," by Art Kohn, Talent Development Magazine, 2015
No promotion, no guilt, no questions asked
Weekly-ish Tips are short and sweet. They cost nothing. And there are no strings attached – including unwanted advertisements – because our aim is to provide you with helpful content, not to promote our stuff.
Our emails also come with a perpetual no-questions-asked, guilt-free pass to use whenever you just don't have time to read them. Plus you can access the archives on our website any time.
"It makes me really happy to know my team is getting [the tips] and it is reminding them of these concepts regularly. We often forward them and discuss them as a group" — Kristian Aloma, former Director of Client Relationships, Brandtrust
Join the movement
Why not check'em out? Can't hurt. Might help.
Because unconventional wisdom transforms business relationships and getting real gets results.
GET YOUR WEEKLY-ISH TIPS
We'll never do anything untoward with your personal info. We promise.
Recent weekly-ish tips
[wp_cpl_sc is_thumb=false cat_id=6 list_num=9 read_more="" css_theme=2 sticky_post="" sort_order="desc"]